Report on NPTEL Awareness E-workshop (Online Program) for Students and Faculty in Association with IIT Madras.
We are glad to inform you that, with your permission GNITC have been conducted a national level online workshop on "NPTEL Awareness E-workshop (Online Program)" as part of NPTEL Local chapter in association with IITM was held on 27.07.2023 from 10:00AMto 12:00PM.
The following delegates/speakers are participated and delivered the contents as per schedule:
1. 10:00 AM - 10:10AM: Dr Ravi Aavula , Assoc. Prof & SPOC NPTEL,GNITC, Hyderabad, delivered welcome Address and introduction about NPTEL E-Workshop.
2. 10:10 AM- 10:40AM: Dr K Venkat Rao, Professor & Director– GNITC, Guest Speaker,
Delivered PPT on the following points:
About college,
GNI success Story
Delivered brief about GNI Establishment, GNITC
GNITC Rankings, Achievements
GNITC Honours and Awards,
Centre of Excellence,
Placements and internships
MOUs and collaborations
Idea lab
Online Courses and Certifications to improve the faculty and students performance in academics
Skill development & Multidisciplinary courses.
Presented the College Local Chapter impact on
How do NPTEL courses help students with respect to internships and placements at GNITC.
Strategies the college uses to spread awareness of NPTEL initiatives within our college.
NPTEL impact success stories in GNITC.
3. 10:40AM - 11:50AM: Prof Shib Sankar Das, Senior Manager-Operations, NPTEL, IITM. Presented on " NPTEL Awareness program and about Swayam, NPTEL Registration, Exams, Certifications, credit transfer system, grades etc.
4. 11:50AM-11:55AM: Prof Shib Sankar Das, Senior Manager-Operations, NPTEL, IITM. Discussed Question and Answers session on NPTEL Awareness.
5. 11:50pm -Workshop was concluded with Vote of thanks by Dr A Ravi, Assoc. Prof, GNITC and Closed by 12:00pm
Outcome: 60% of the Final year students are enrolled in upcoming July 2023- NPTEL online courses.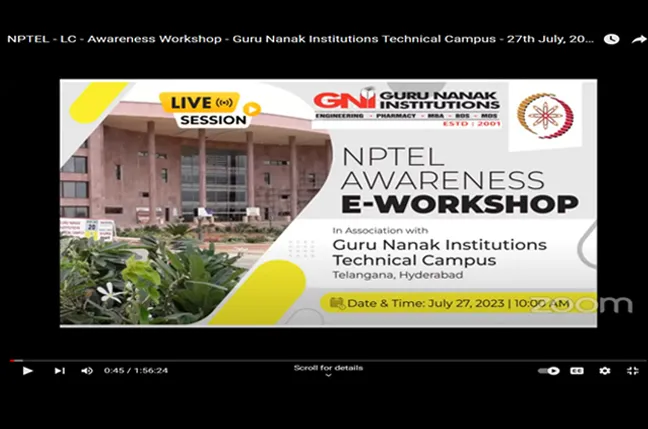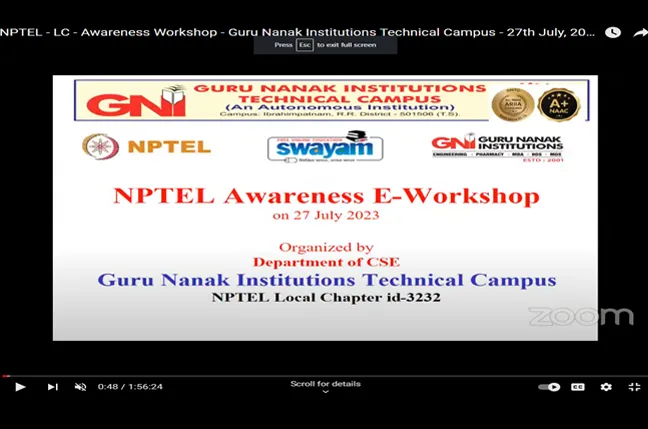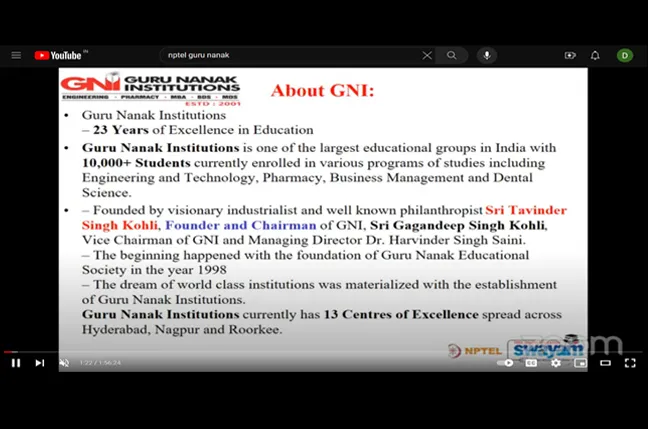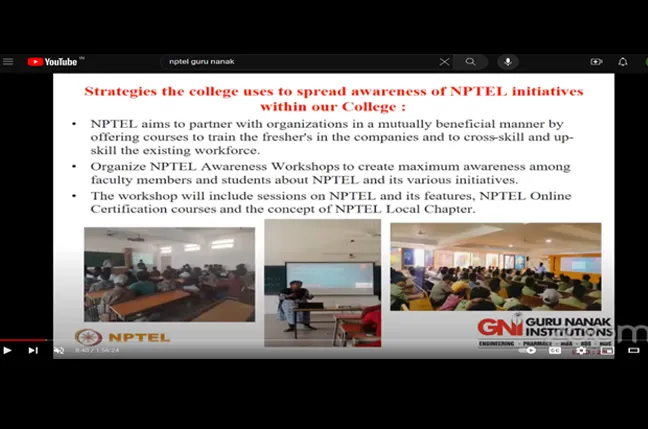 Professional Chapters
1. The Indian Society for Technical Education (ISTE) Chapter:
ISTE is the leading National Professional non-profit making Society for the Technical Education System in our country with the motto of Career Development of Teachers and Personality Development of Students and overall development of our Technical Education System. Being the only national organisation of educators in the field of Engineering and Technology, ISTE effectively contributes in various missions of the Union Government. The strength of ISTE is the strong base it has in technical education institutions in the country.
Department of EEE has ISTE Student Chapter as well as all the faculty members are Life time Members of ISTE. The major objective of the department along with ISTE is to provide quality training programmes to teachers and administrators of technical institutions to update their knowledge and skills in their fields of activity and to assist and contribute in the production and development of top quality professional engineers and technicians needed by the industry and other organisations. It organizes an annual convention for faculty and students separately every year where a large number of technocrats, technical teachers, policy makers, experts from the industry etc. participate and interact.
Every year a National Seminar with a specific theme with respect to the latest development in the field of Science and Technology and societal problems is being arranged during the Annual convention and leading luminaries of technical education are invited to deliver special lectures and delegates will present research papers. ISTE is actively involved in many activities conducted by All India Council for Technical Education New Delhi (AICTE) and National Board of Accreditation New Delhi (NBA).
2. NPTEL Local Chapter:
Online learning enables students to learn anywhere, anytime and any subject using ICT. The institute is having NPTEL local chapter. Faculty & Students are motivated to do NPTEL online courses with the help of video lessons and web content in addition to their regular classes to improve learning and in turn to enhance their skills. The faculty members are also encouraged to do online courses to improve teaching- learning process. The institute is refunding the fees for those faculty, who are successfully completed the course. Also, these additional certifications are considered during their annual increments. NPTEL local chapter in the college is having one chief coordinator and one department coordinator. The coordinators regularly interact with the students and guide them to register in the courses. The institute provided few periods specifically for NPTEL courses interaction in the time table. The department advisory committee select some of the courses and motivate the students to join in that course. In the NPTEL period, these course contents will be discussed for the benefit of the students. The institute has proposed the NPTEL course is equivalent to one of the Professional elective in the BoS and ACM. This course will be decided by the BoS. However, ACM has given approval to add these NPTEL courses under "Additional Courses" with zero credit in the Consolidated Marks Memo (CMM).
3. The International Association of Engineers (IAENG):
IAENG is a non-profit international association for the engineers and the computer scientists. IAENG has been found by a group of engineers and computer scientists from over thirty different countries. The IAENG members include research center heads, faculty deans, department heads, professors, research scientists/engineers, experienced software development directors and engineers, and university postgraduate and undergraduate students, etc. The IAENG goals are to promote the co-operation between the professionals in various fields of the engineering and to cultivate an environment for the advance and development of the technology. The IAENG Society of Electrical Engineering (ISEE) is organized for the engineers and the scholars in the electrical engineering discipline. Through regularly scheduled conferences and workshops on the electrical engineering, the IAENG Society of Electrical Engineering serves as a forum for networking, information sharing, idea exchange and problem solving for the electrical engineering community. The committee members of the IAENG Society of Electrical Engineering can voluntarily organize different activities for its Society members, and take part in organizing the IAENG conferences and workshops. The IAENG Society of Electrical Engineering has been taking part in the organizing of different IAENG conferences, for example, the IAENG International Conference on Electrical Engineering (ICEE). The ICEE conference is held as part of the International Multi Conference of Engineers and Computer Scientists (IMECS), and it serves as good platforms for the electrical engineering community members to meet with each other and to exchange ideas.
Faculty Circular NPTEL JAN-JUNE 2023
Students Circular NPTEL JAN-JUNE 2023