Graduation Day-2023
10th international conference on innovations in computer science and engineering- ICICSE2022
9th ICIECE
17th Graduation Day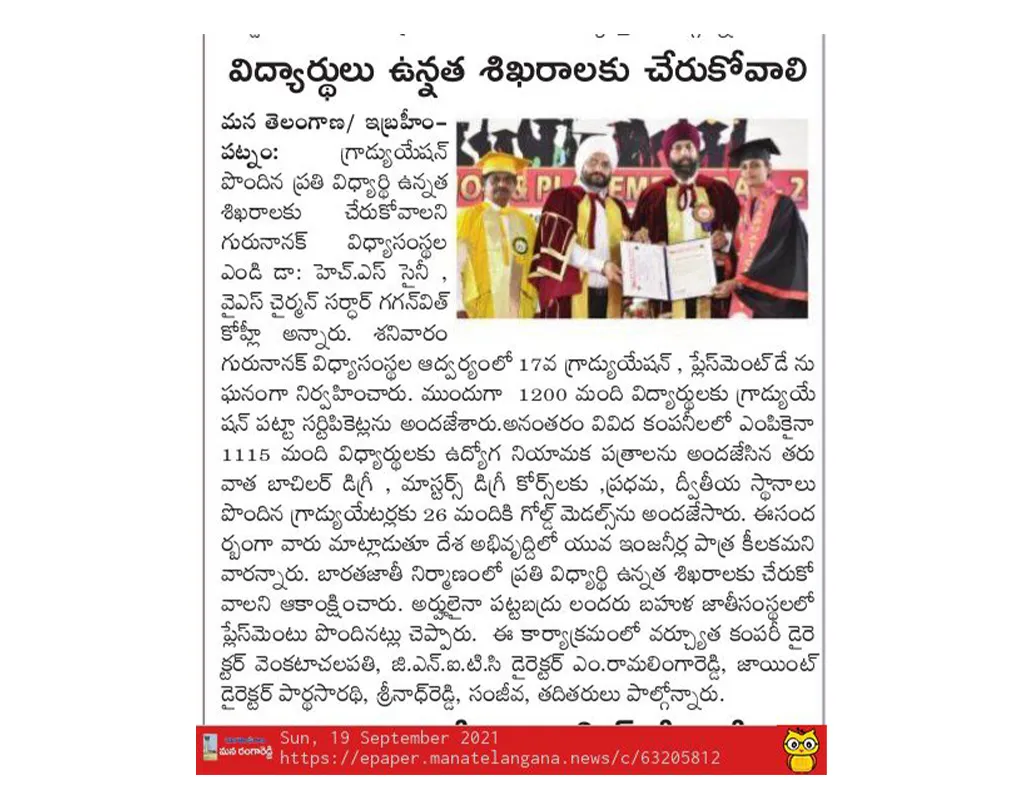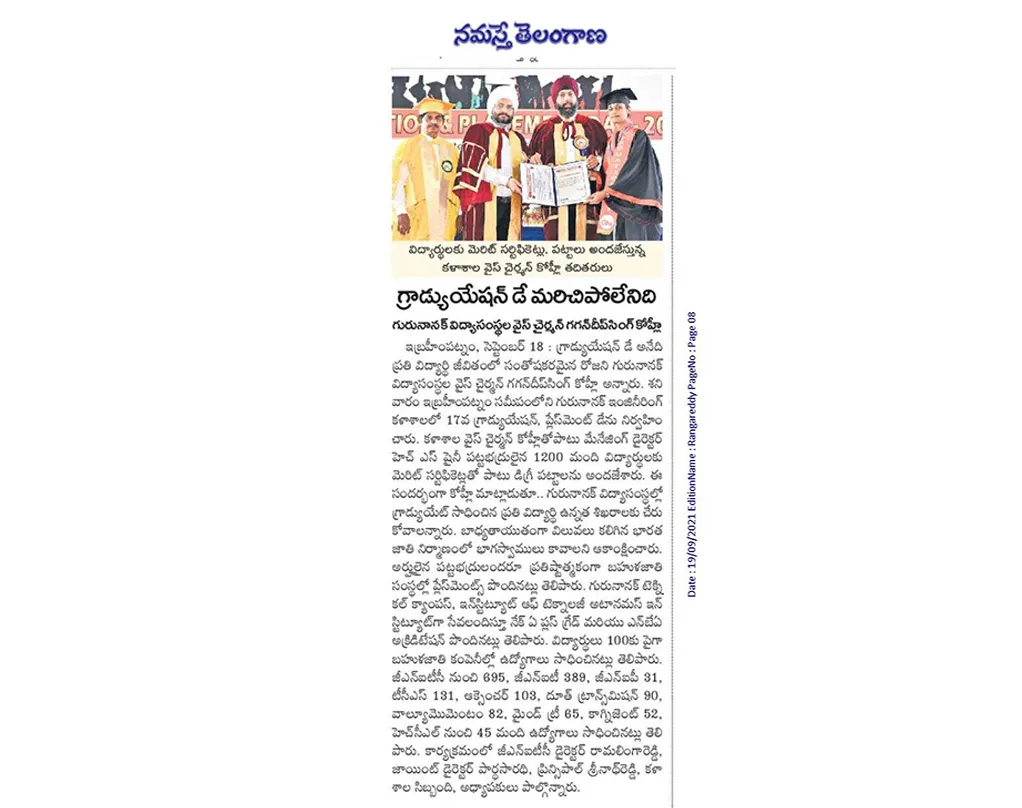 Brumous Fiesta '21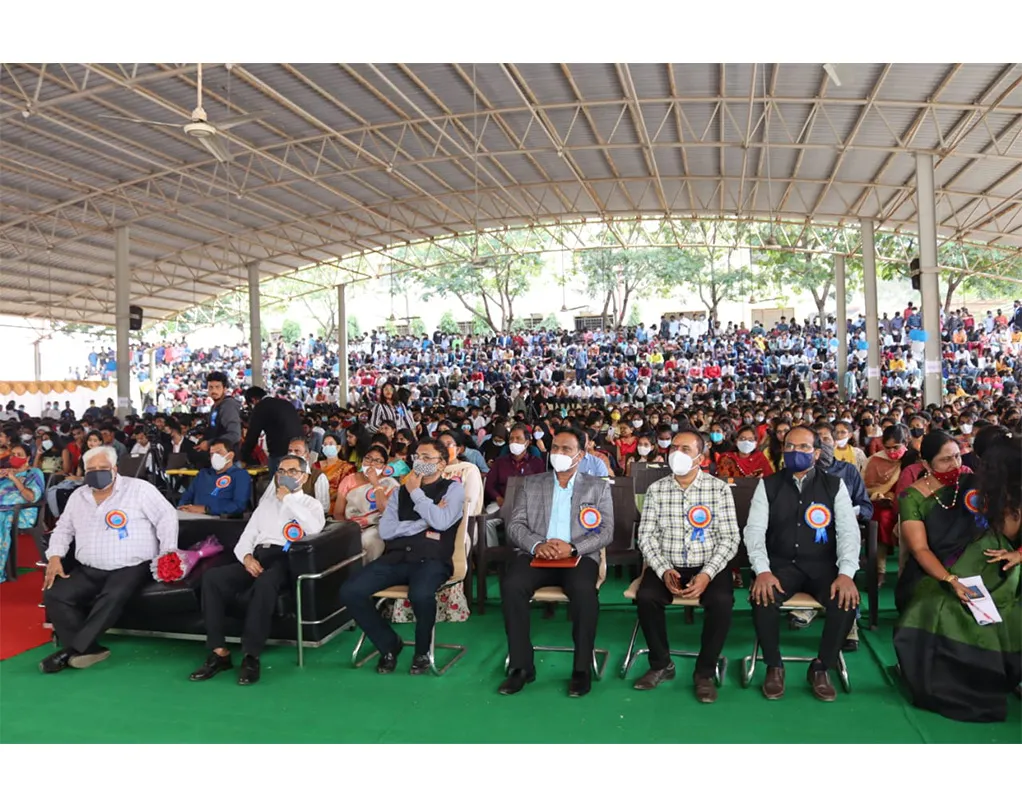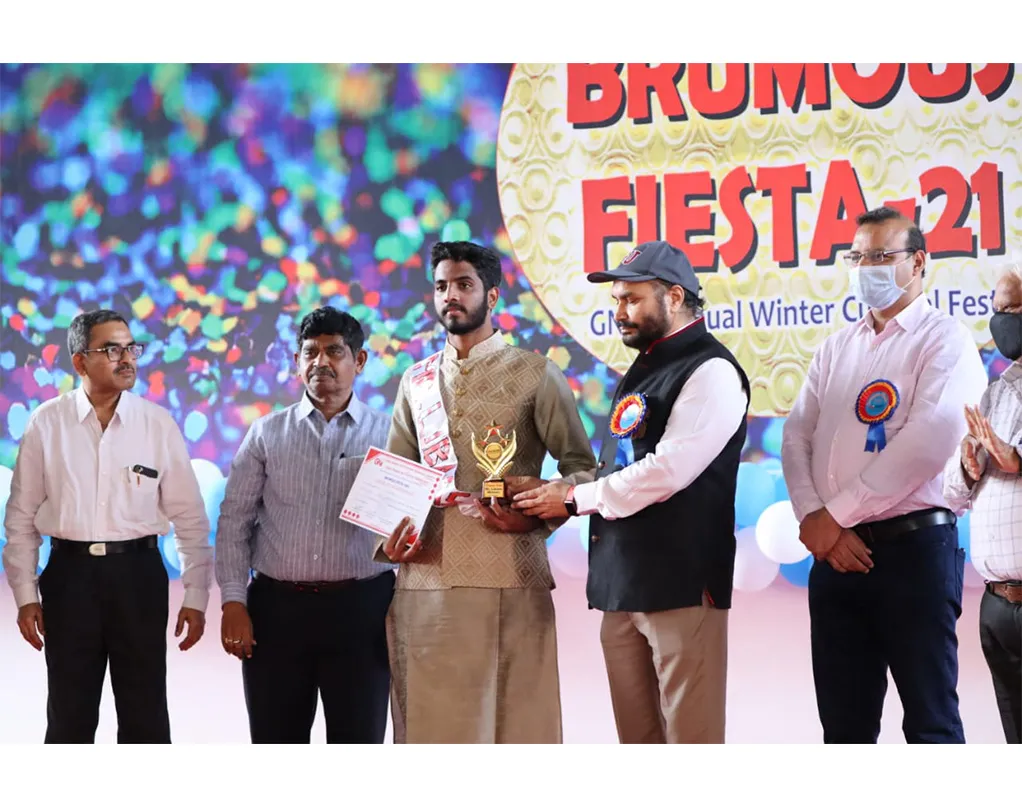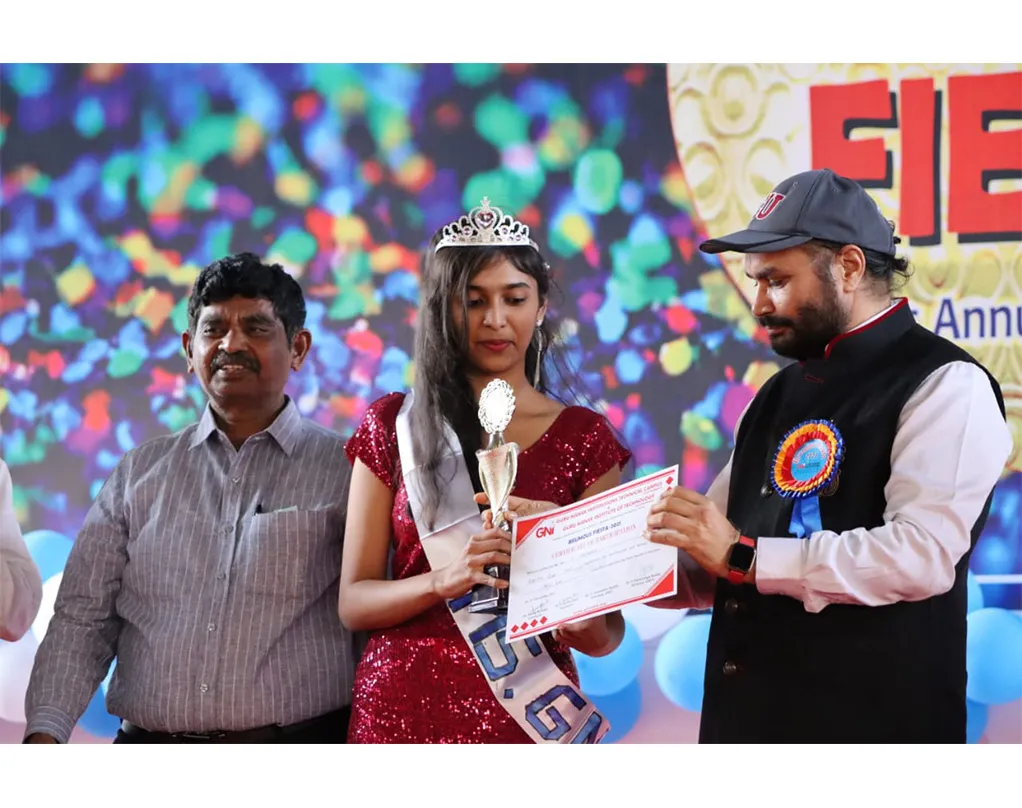 Guna 23
National Level Management Fest "Guna-2K23" in Guru Nanak Educational Institutions
The national level management and cultural fest "Guna 2K23" was organised by School of Management Studies, Guru Nanak educational Institutions, Ibrahimpatnam, Ranga Reddy District. The GUNA-2k23 is an important initiative that aims to promote practical exposure by interacting with the conglomeration of management graduates come from various parts of Telanagana state. This event will also fetch real time experience for the students on knowhow, application of management practices in organising the event and we believe that by fostering creativity, innovation, and teamwork, we can help shape the future of our country and the world. The GUN-2k23 Fest was inaugurated by the Minister of State for Tourism, Sports and Excise Shri Srinivas Gowd as the Chief Guest. Addressing the students, he advised the students to take advantage of such cultural and skill development programs and appreciated them for encouraging such good programs. Expressing happiness that the Minister was the chief guest, the management and students honored him with bouquets and presented mementos. Sri Gagandeep Singh Kohli, Vice Chairman of Guru Nanak Educational Institutions, Managing Director Dr. H.S. Saini, Director and Professor K. Venkata rao, Joint Director Prof. Parthasarathy, GUNA Convener Prof. Ananda Bethapudi and heads of various departments and teaching team participated in the program and addressed the students.
As part of the program, informal events...Singing and Instrumental, Movies Quiz, Lone Gaming, Riddles, Danes, Murder Mystery, Business Quiz, One Time CEO, Ad-Mania, Pitchers, Pour Over Pictures, Corporate Walk and other categories were held, the Minister Dr. V Srinivas Goud distributed the prizes to the winners of various categories.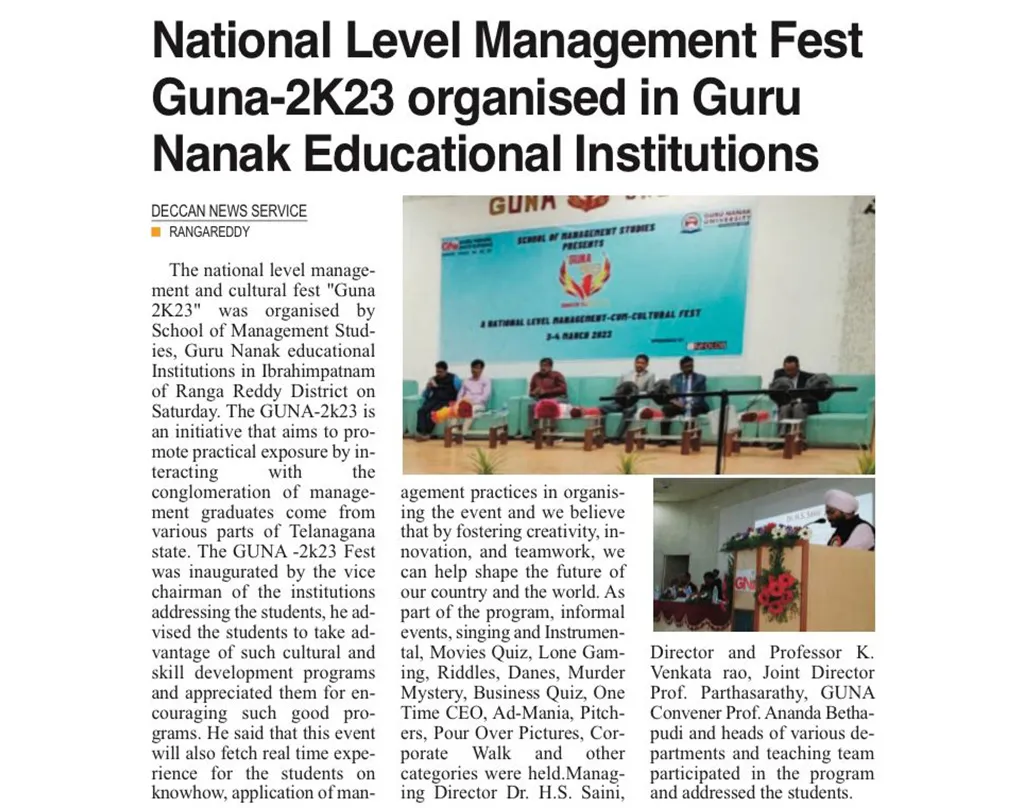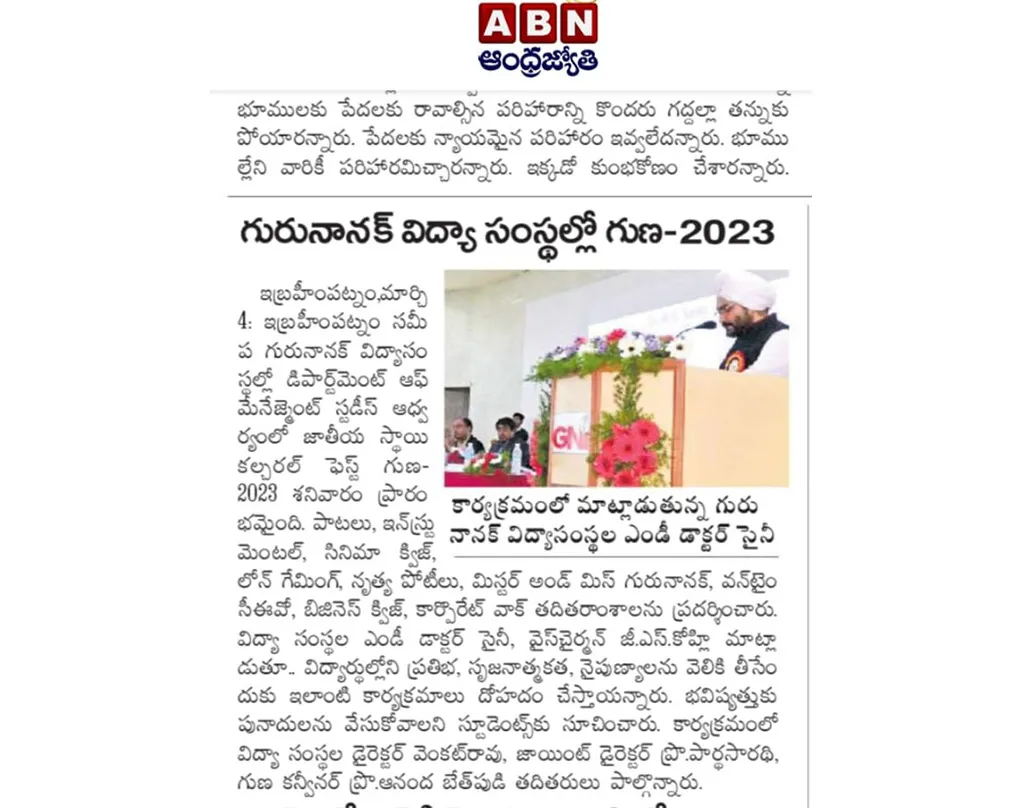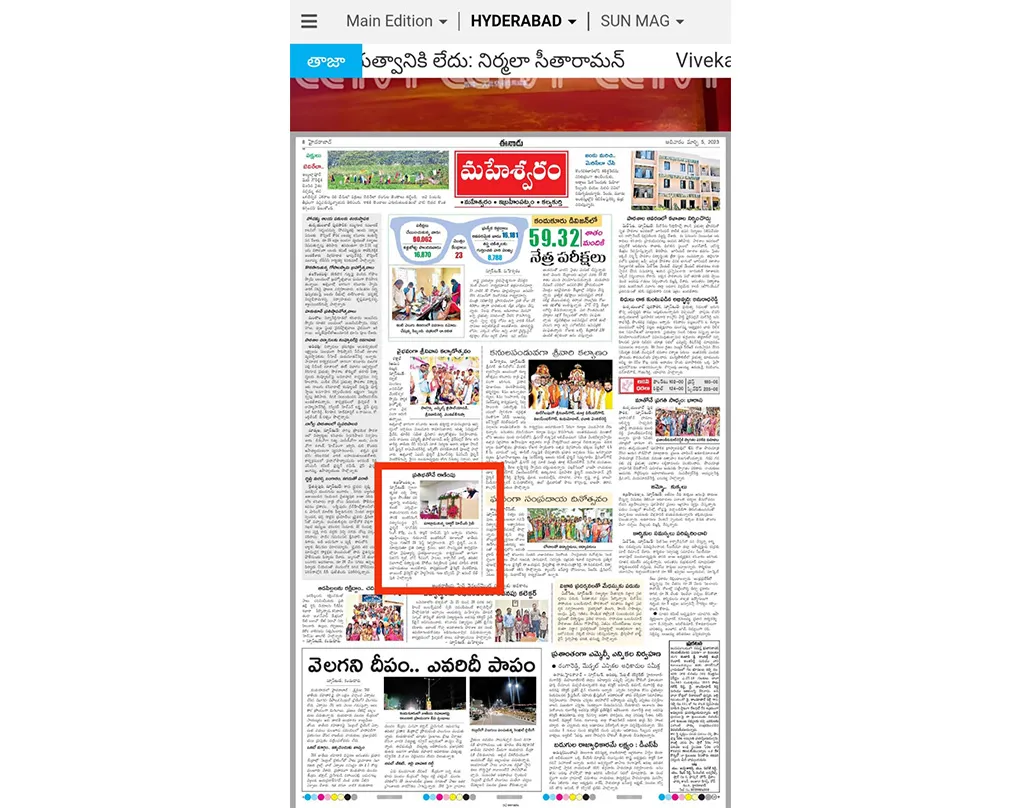 ME FDP newspaper clippings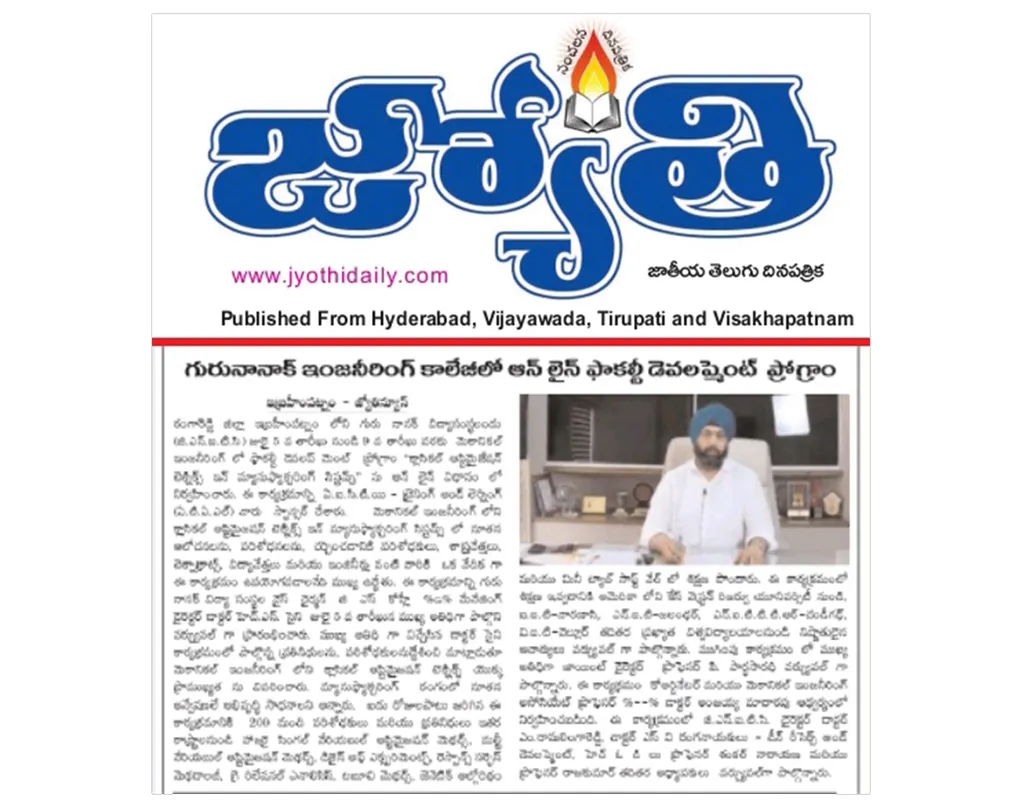 Military NSG Traning at GNI
TS Archery Selections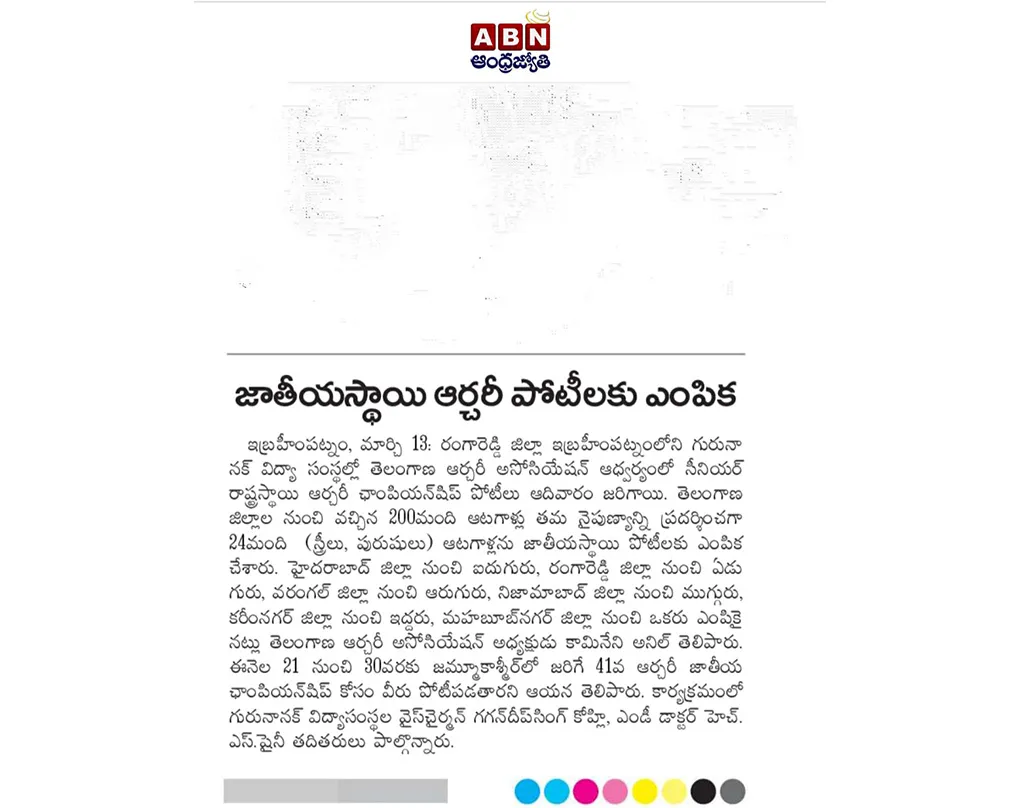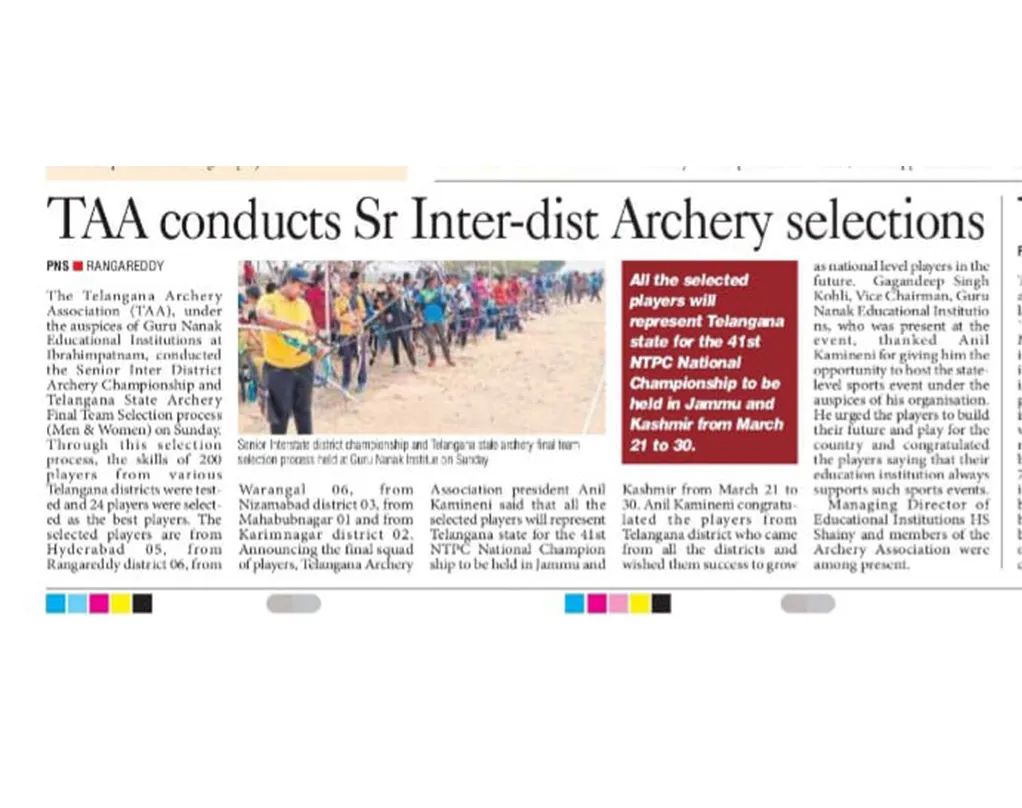 Virtusa Centre of Excellence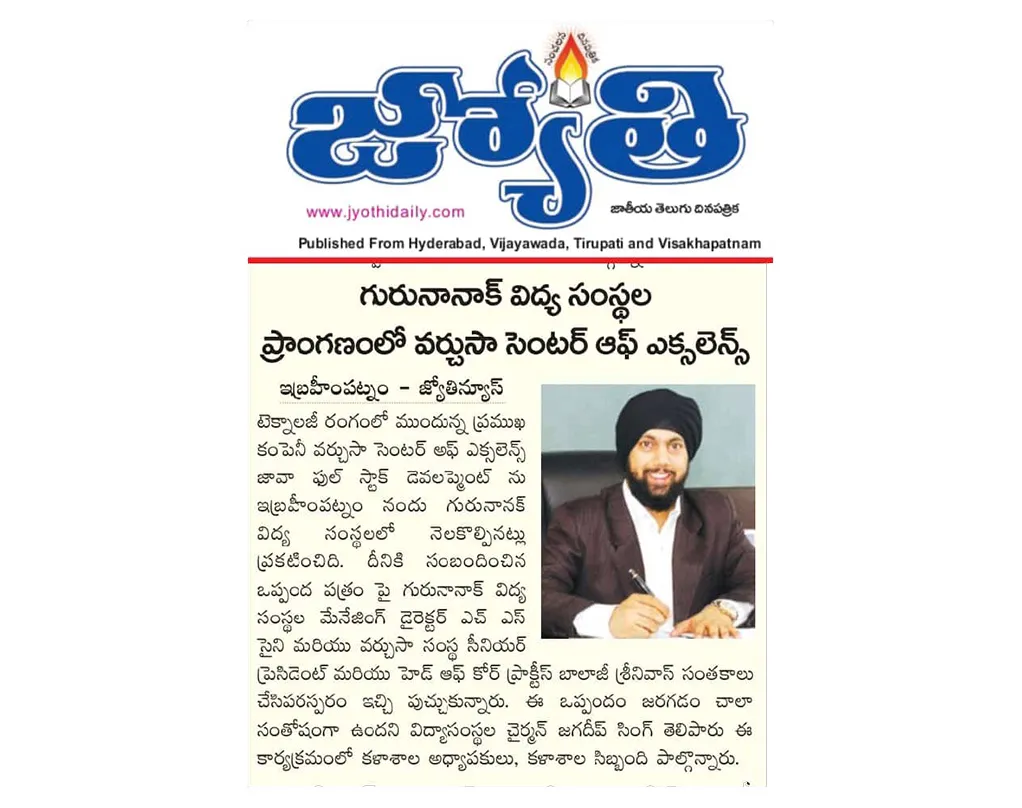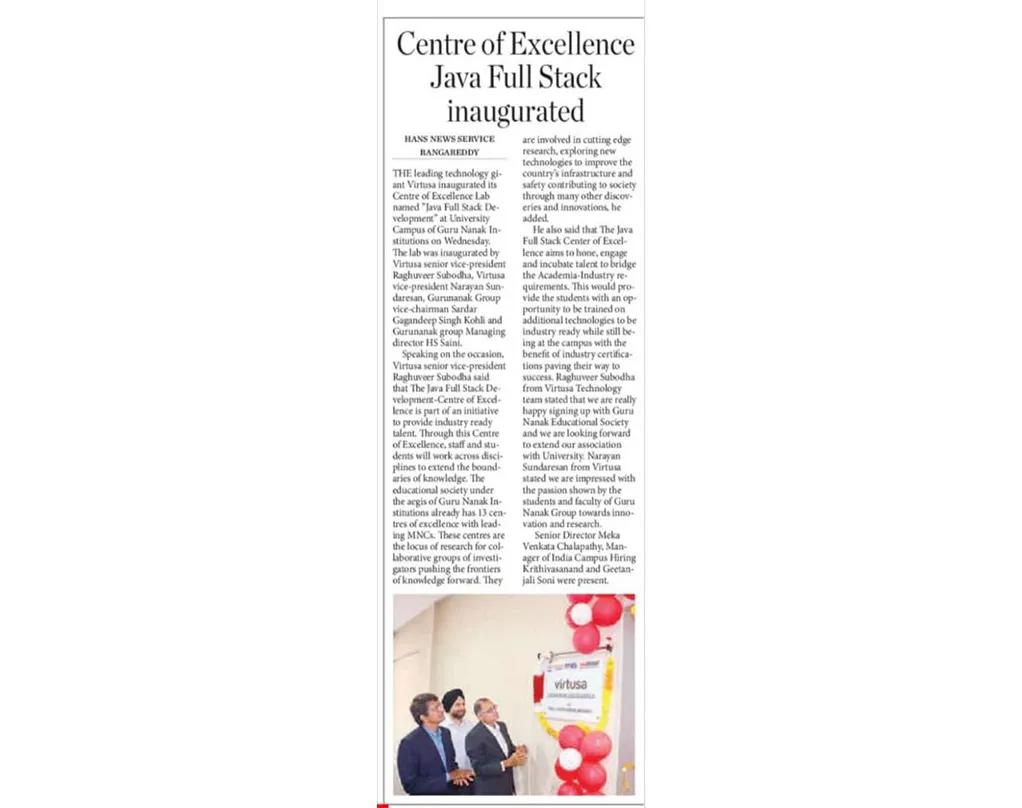 TS Archery Selections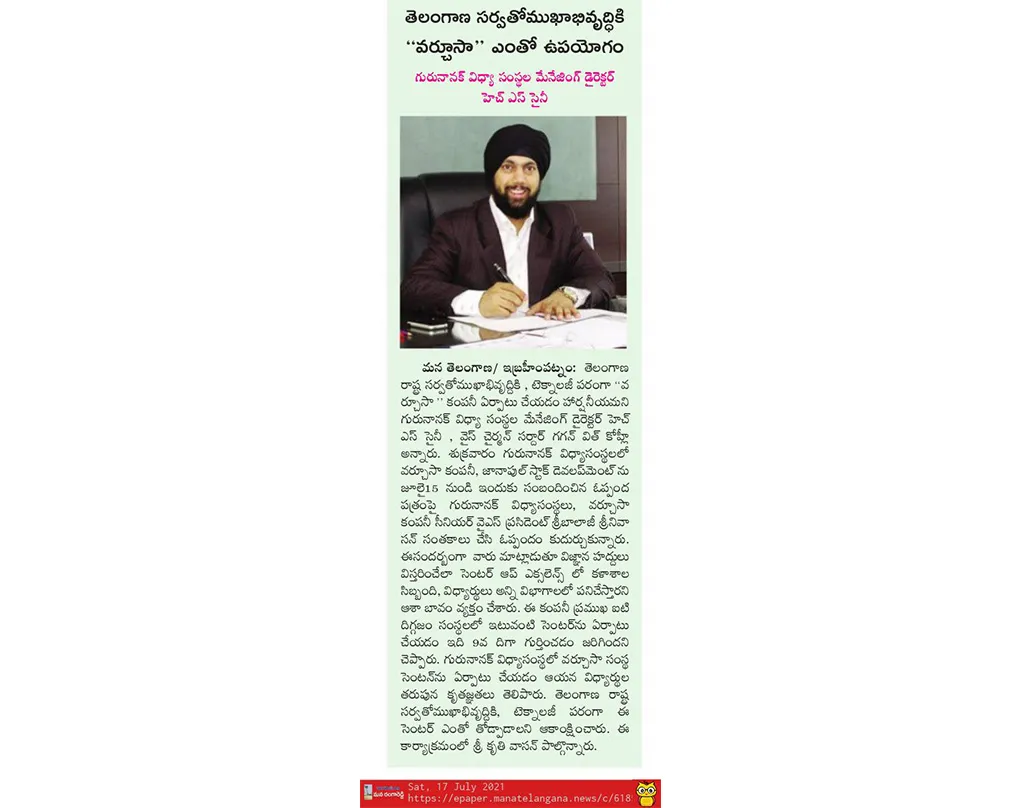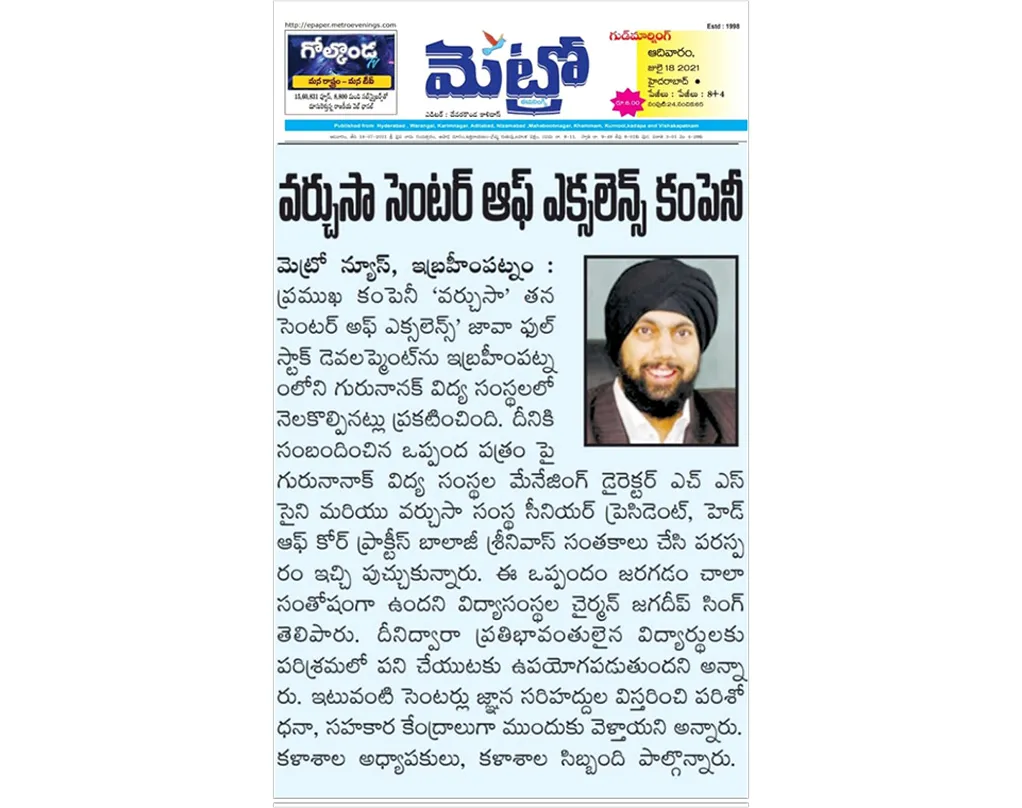 Womans day 23 NP clips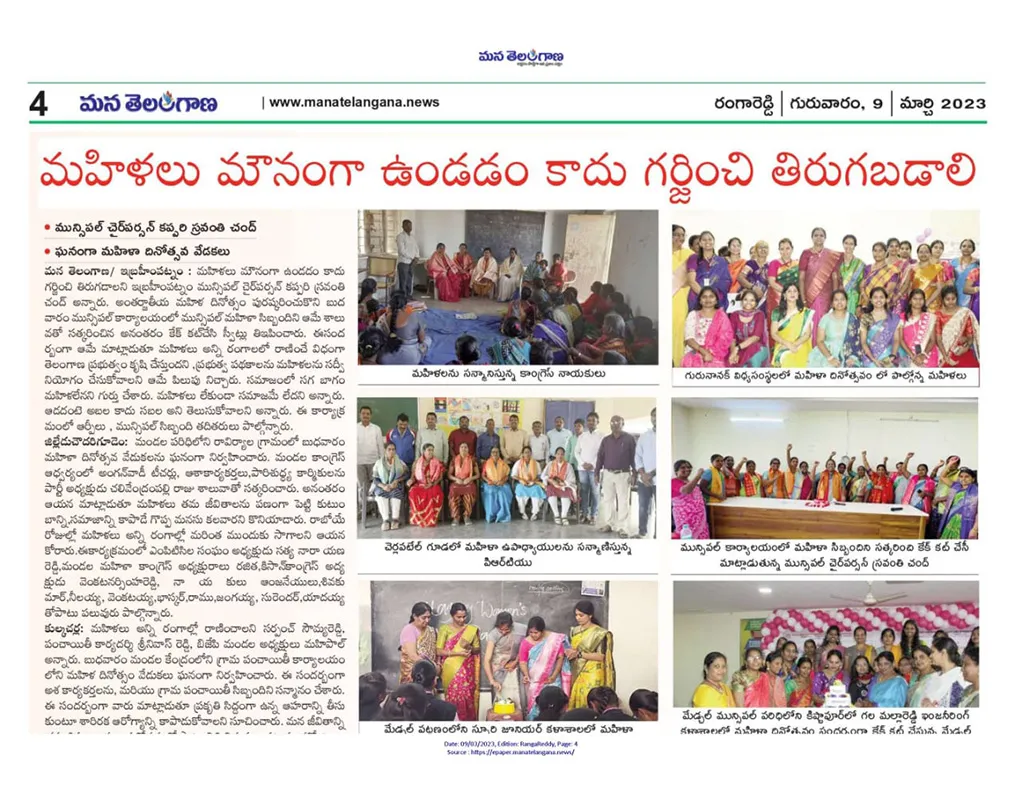 Yoga Day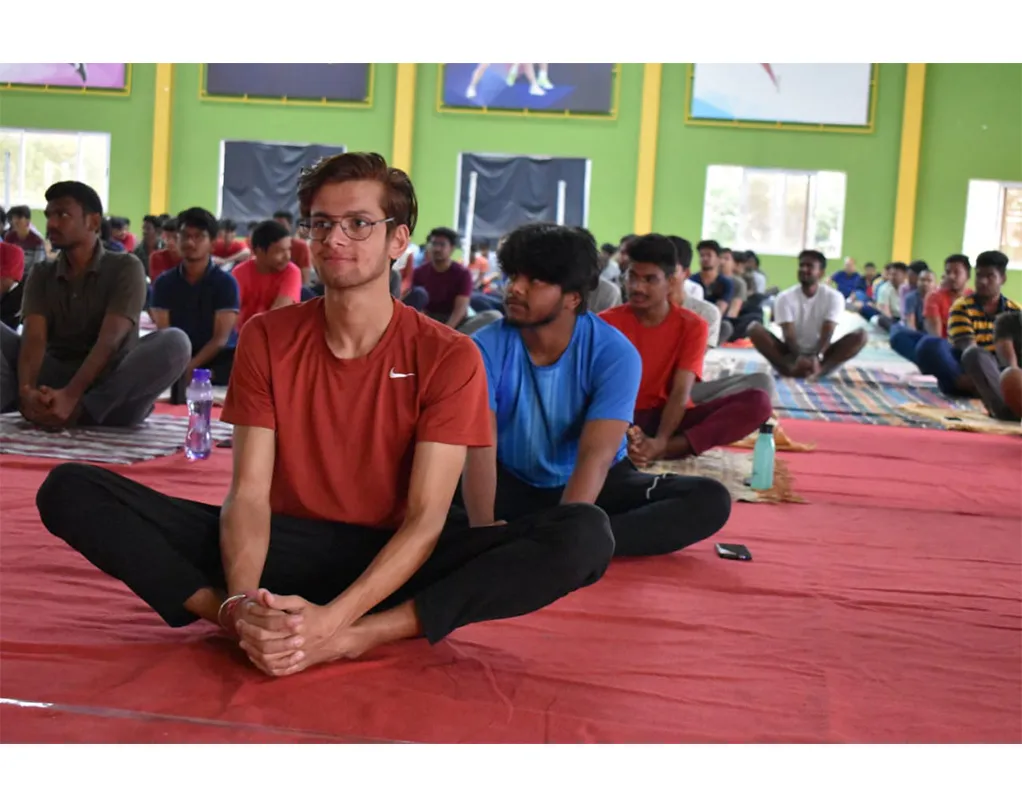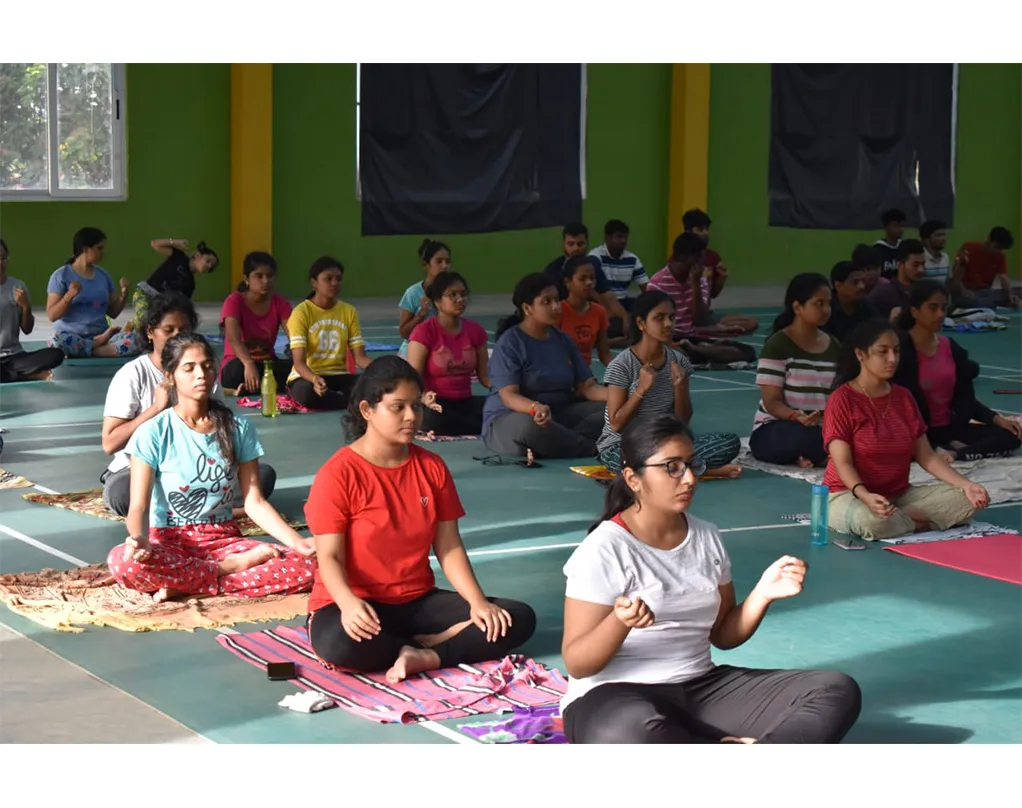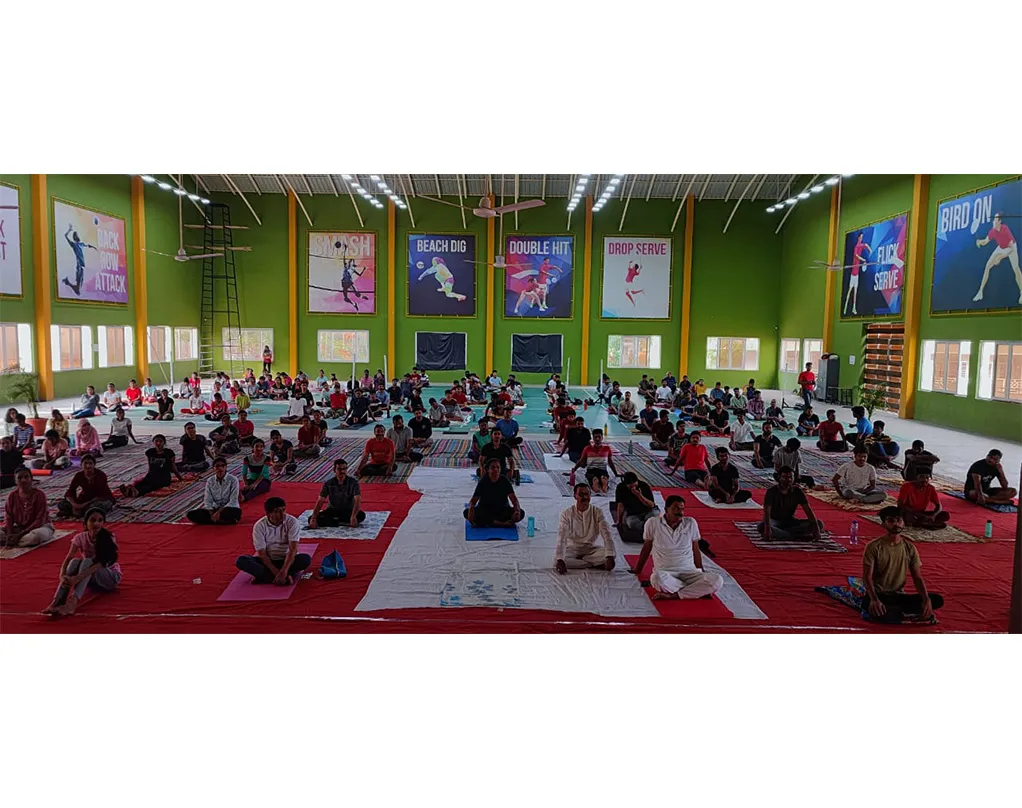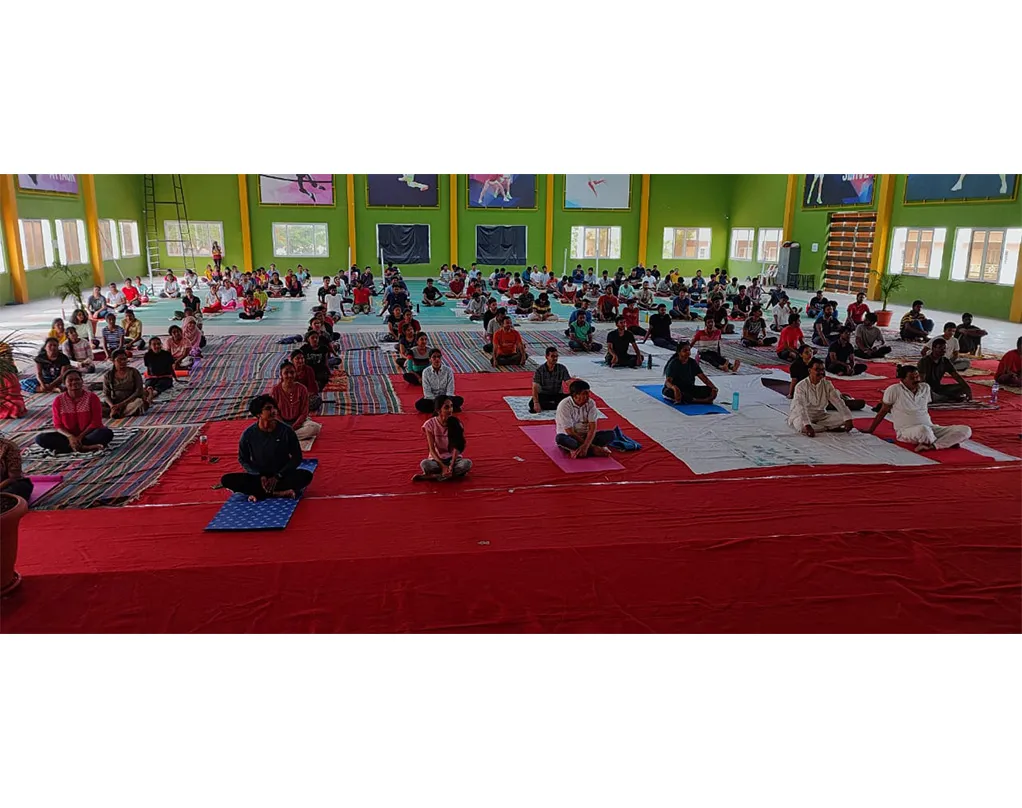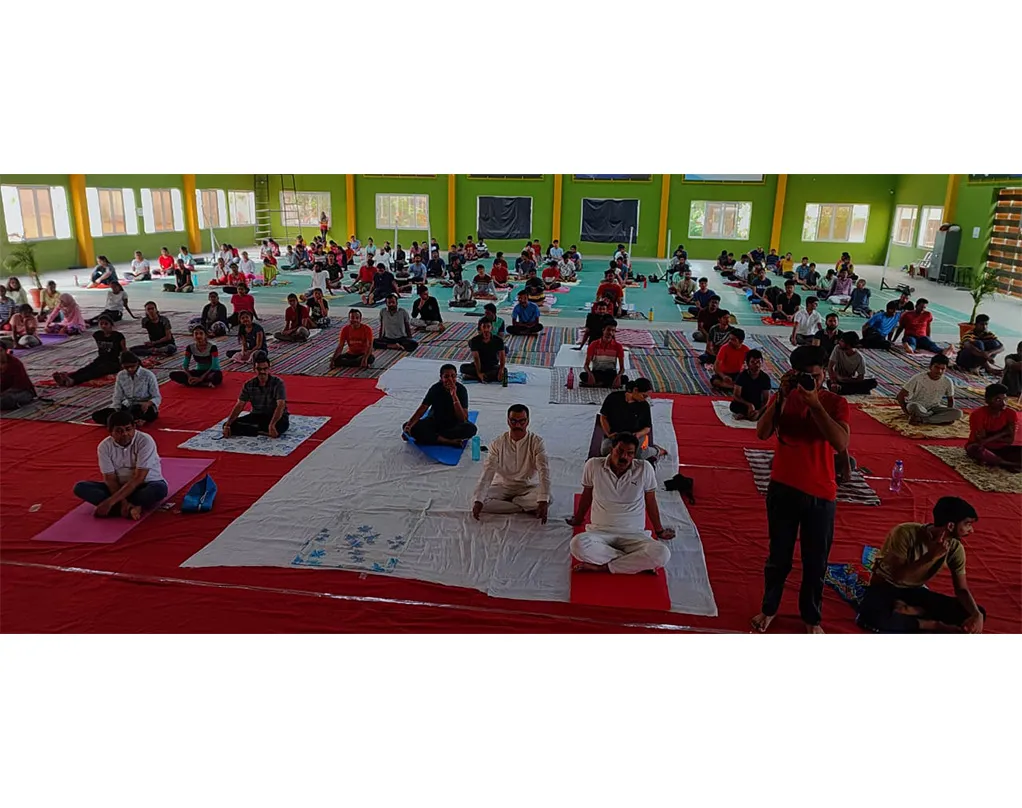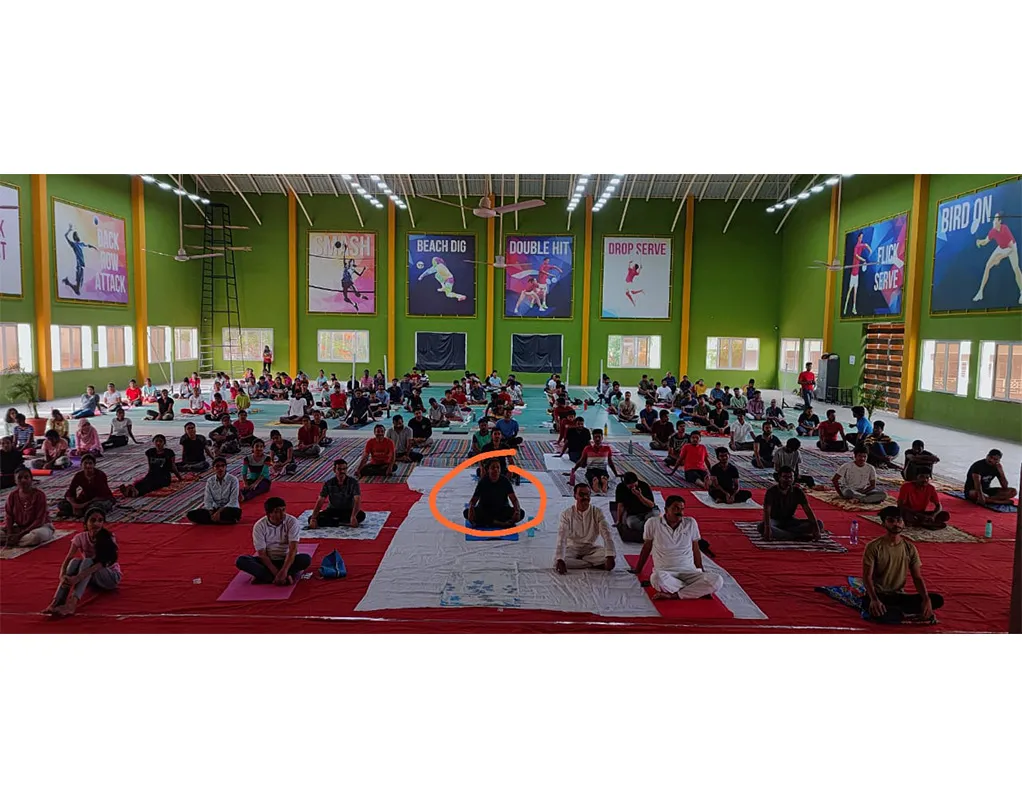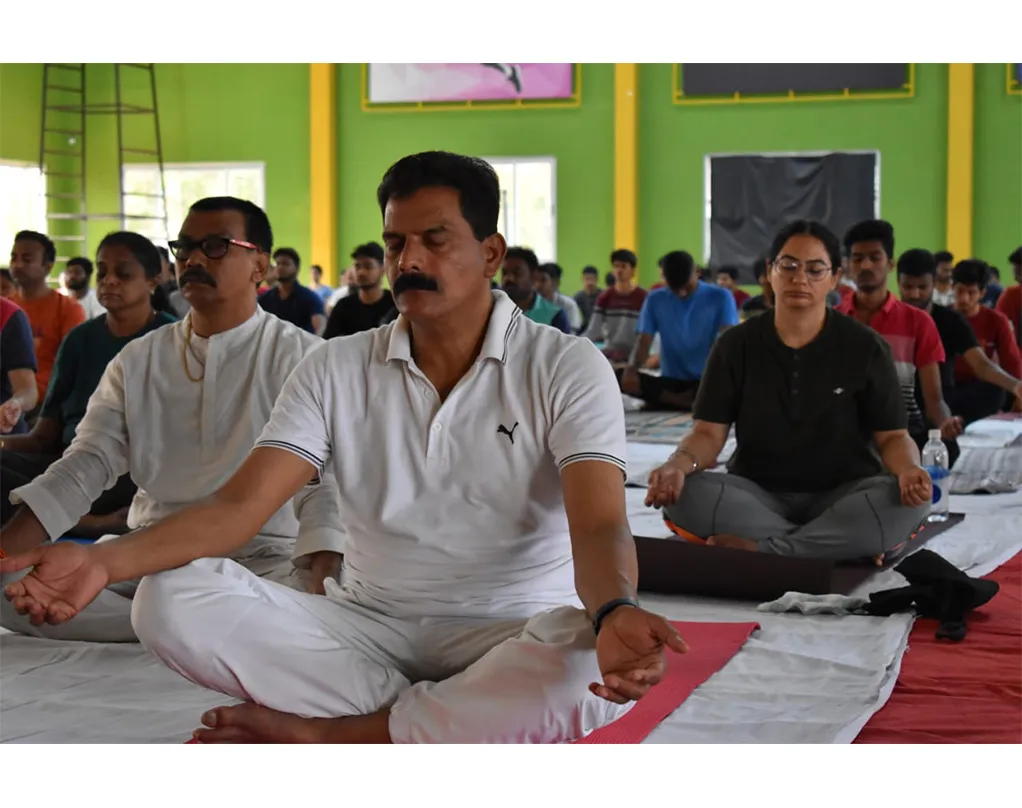 Christmas Celebrations at Guru Nanak Institutions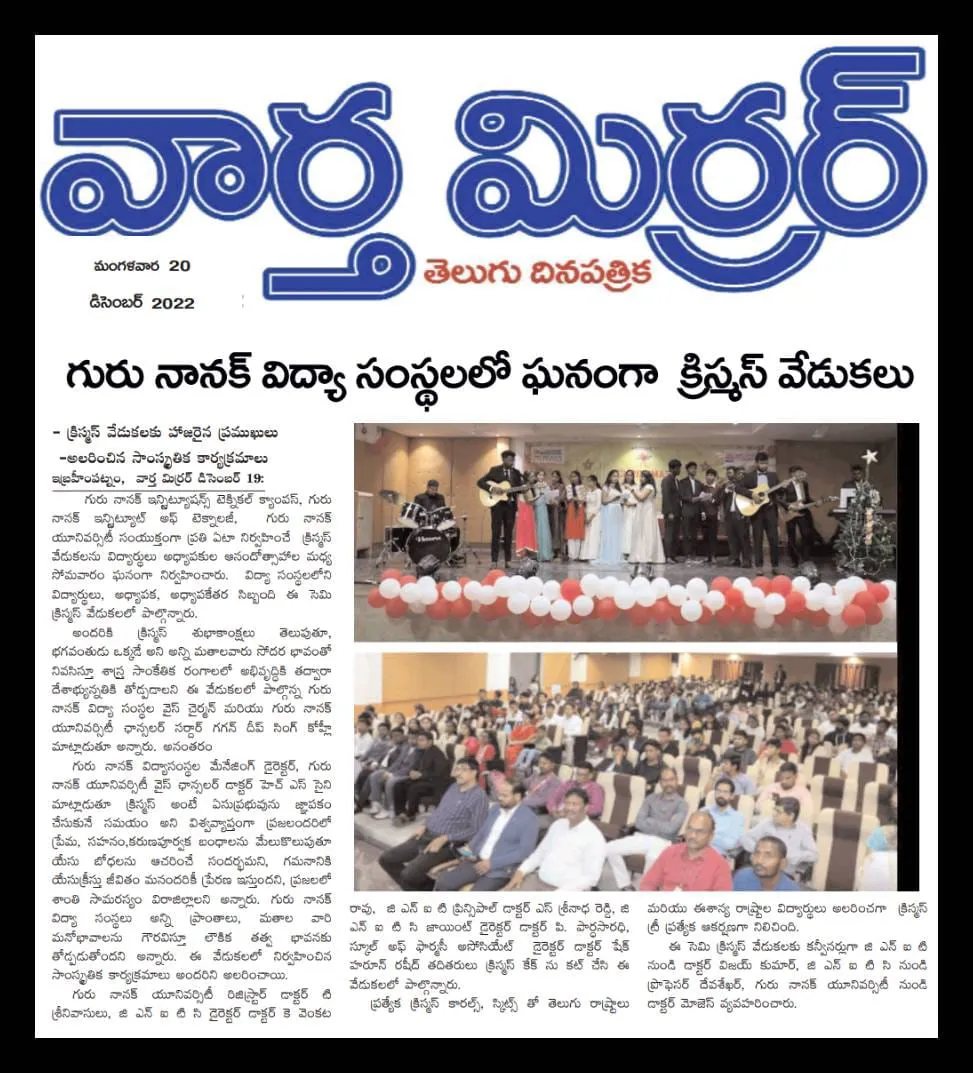 Virtusa sets up Centre of Excellence at Guru Nanak Institutions
American IT services company Virtusa has established its centre of excellence (CoE) focused on Java Full Stack Development at Guru Nanak Institutions' (GNI's) Ibrahimpatnam Campus, Hyderabad.
The MoU was signed between Dr H S Saini, MD, Guru Nanak Institutions and Balaji Srinivasan, senior vice president, Virtusa.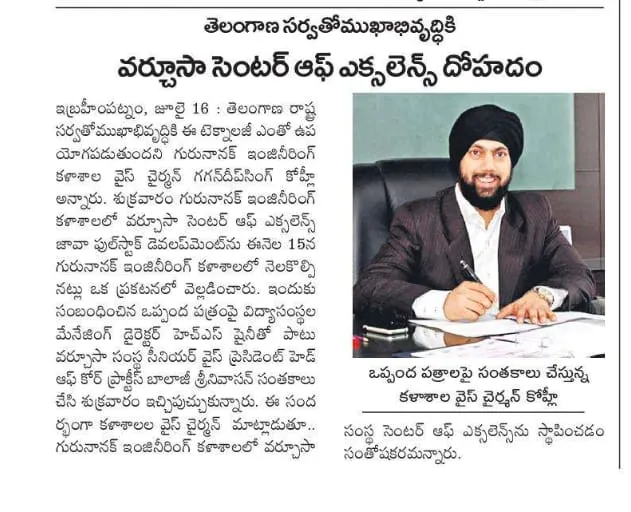 International Women's day Celebrations at GNI

GNI Graduation Ceremony 2020
ICIME-2021 Two days Virtual International Conference held at Guru Nanak Institutions, Ibrahimpatnam RR Dist.
రంగారెడ్డి జిల్లా ఇబ్రహీంపట్నం సమీపంలోని గురునానక్ విద్యాసంస్థలందు మెకానికల్ ఇంజనీరింగ్‌లో నూతన ఆవిష్కరణలపై 4వ అంతర్జాతీయ సదస్సును వర్చ్యువల్ గా నిర్వహించారు. ఈ కార్యక్రమాన్ని ఏ.ఐ.సి.టి.ఈ, ఇతర పరిశ్రమల ఆర్థికసహకారంతో గురునానక్ విద్యాసంస్థల ఆధ్వర్యంలో నిర్వహించారు.
ARIIA Ranking
Virtual Career Fair 2020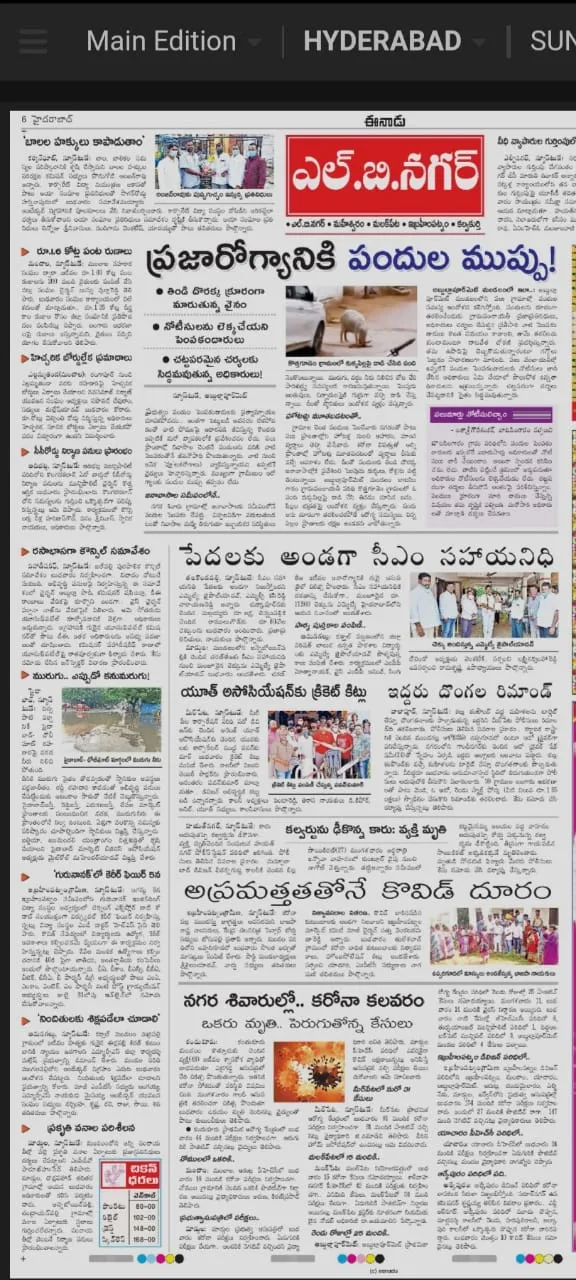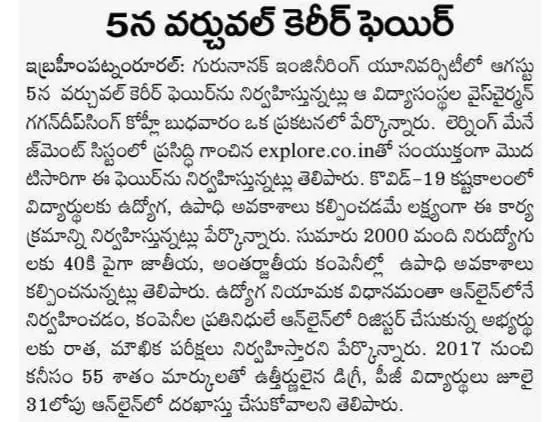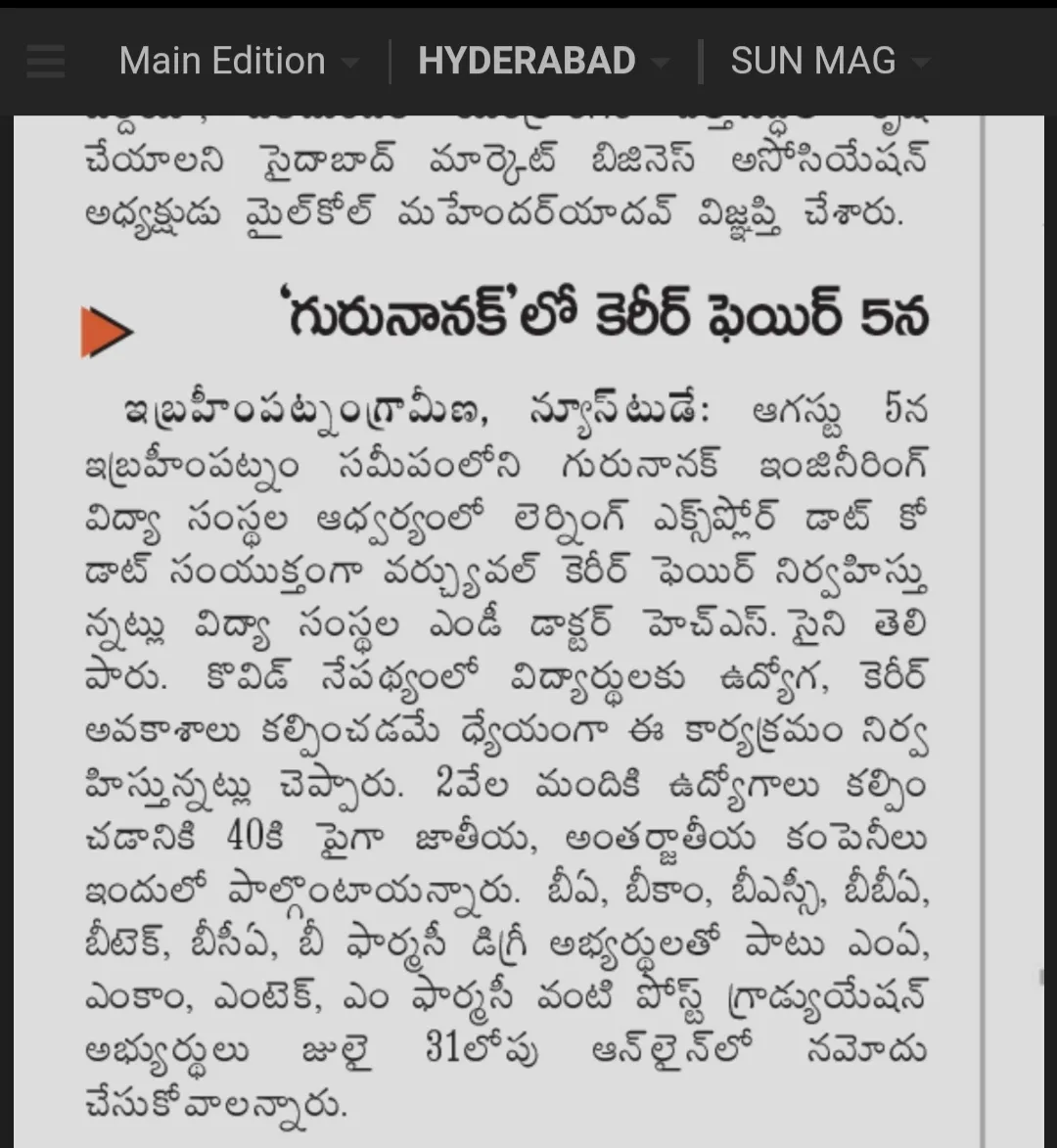 GNI Leads Online Classes in Technical Education
Srinivas, a student of Civil Engineering from Guru Nanak Institutions expressed his happiness about the online classes conducted by the college faculty. He said that, "Online teaching reminds me of conventional classroom teaching. It is providing a wider scope for interaction on different topics with the faculty after the class. It is advantageous, as the students are able to clear their doubts. Online teaching is of a great help in the time of crisis, when conventional classroom teaching is not possible.
Awareness Programme on 'SHE for her' held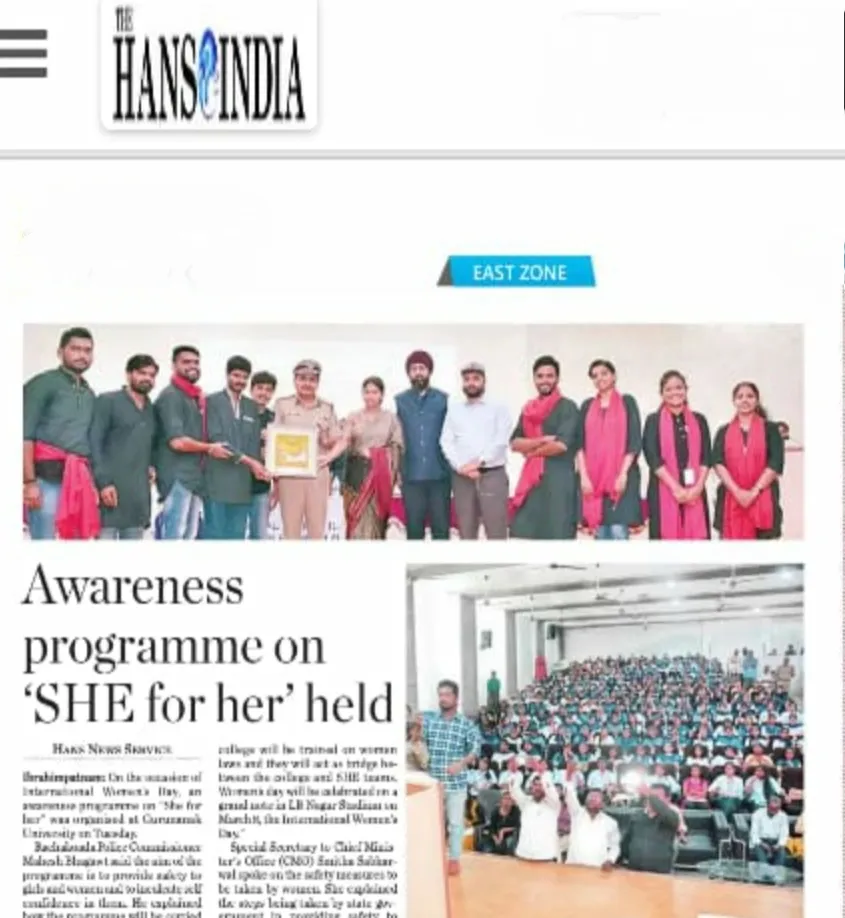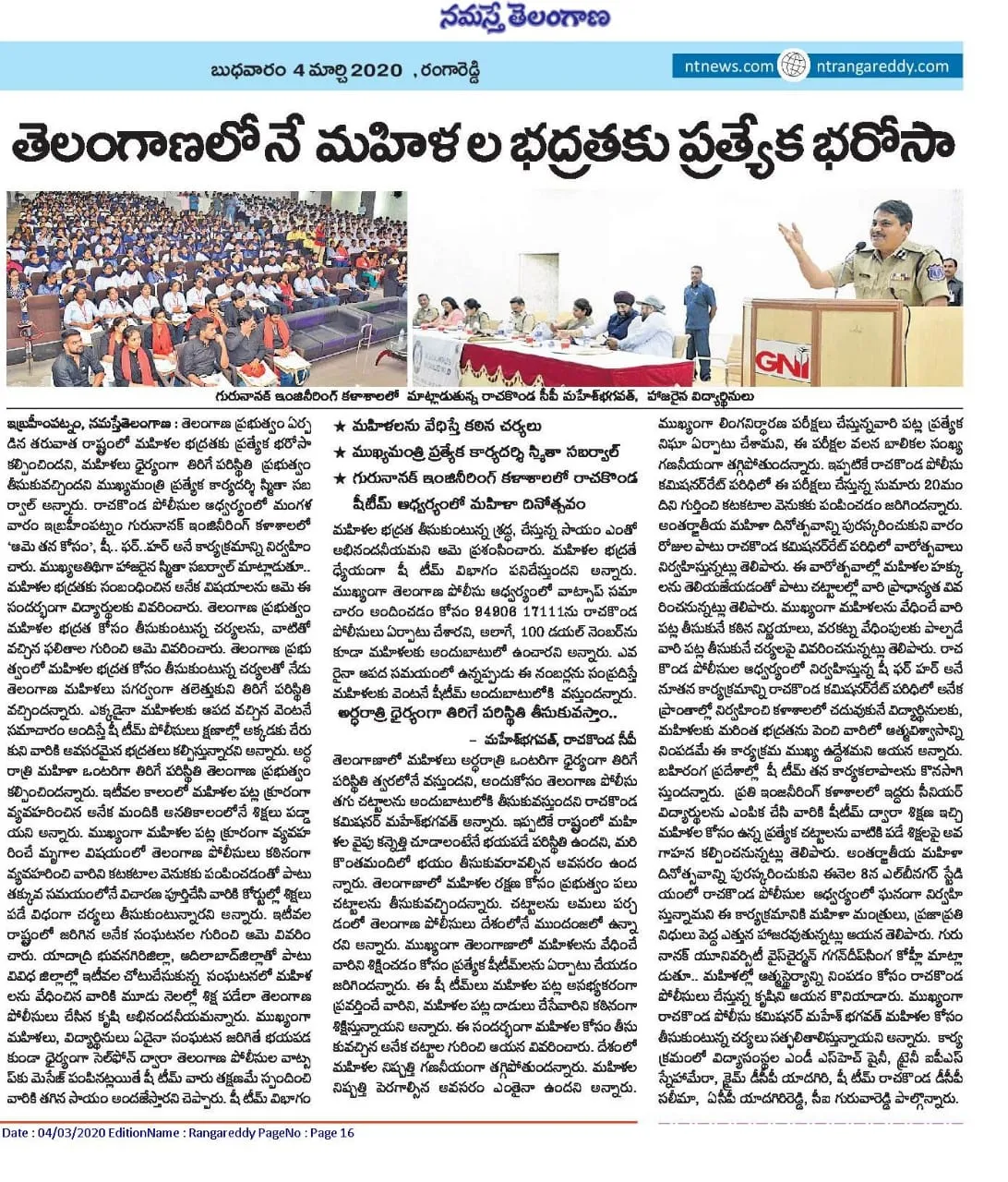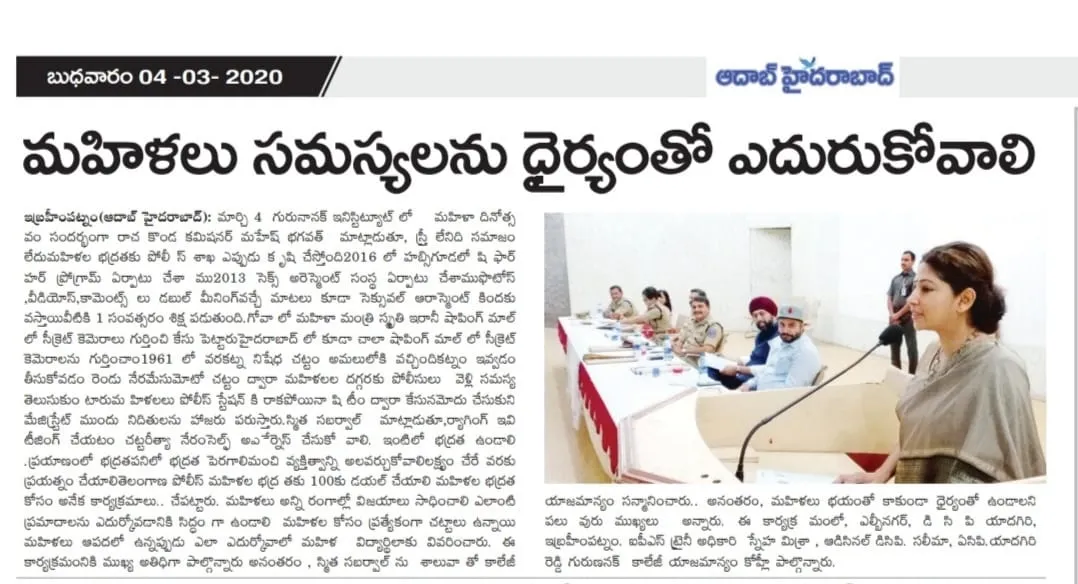 Distributing Blankets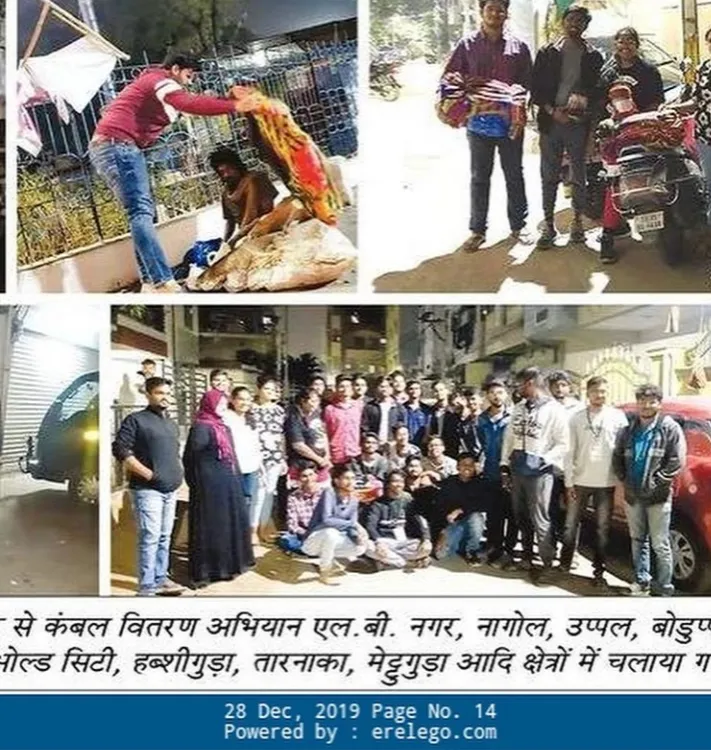 Anti-Ragging Awareness Program
Media coverage of Under 25 Summit 2019 at GNI Campus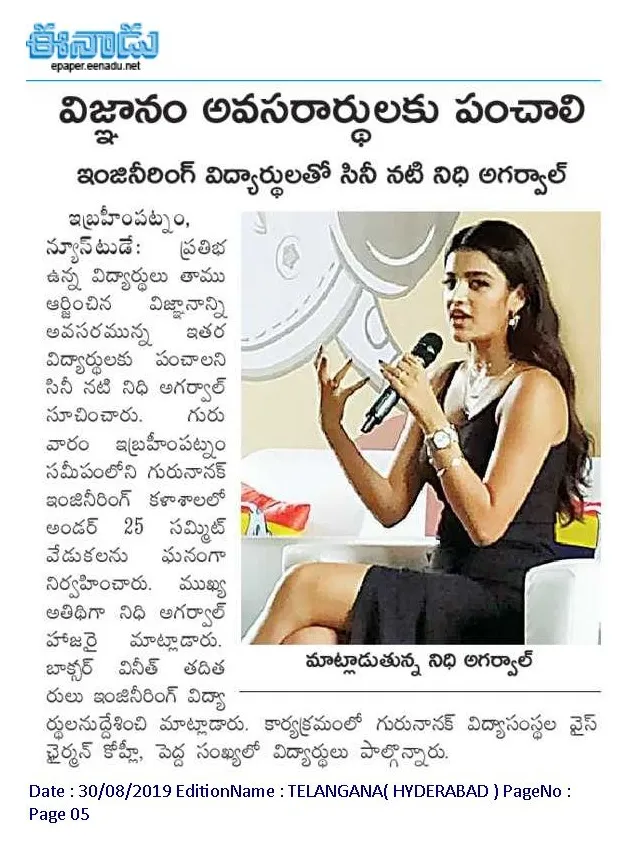 Won 2nd prize in National Go-karting Competitions
4th International Conference on EEE (ICIEEE-2019)
Media coverage of Graduation Day & Placement Day celebrations at GNI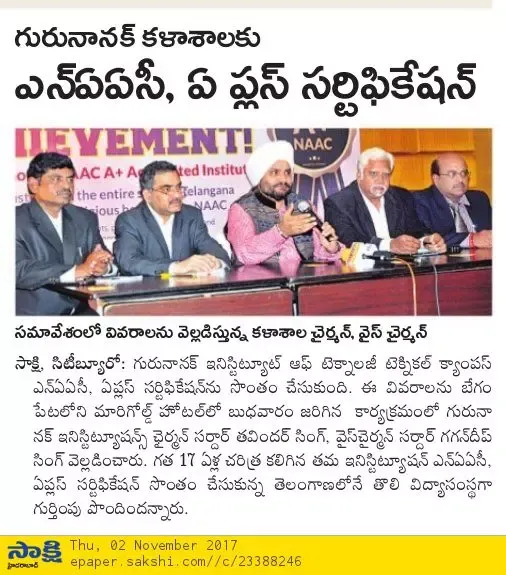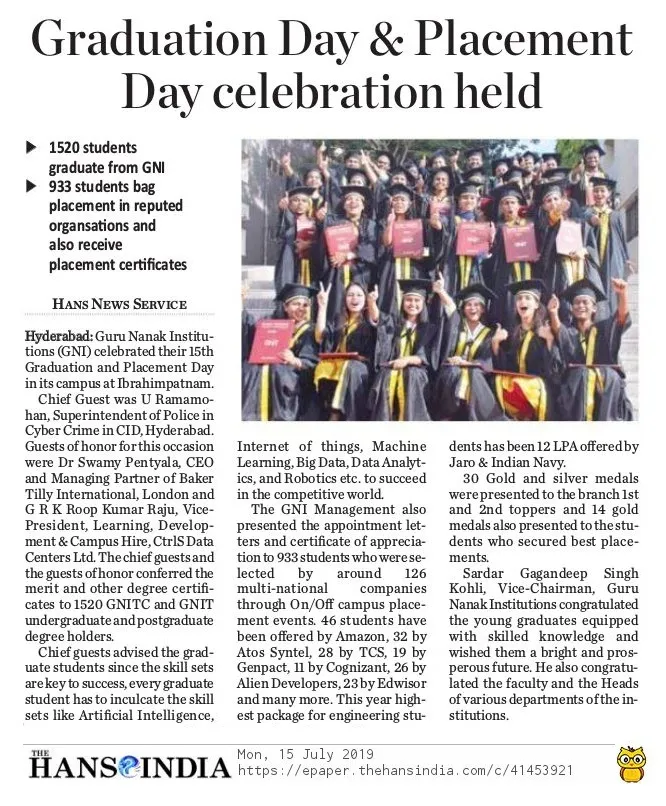 Women's Day Celebrations
Students Salutes Martyred CRPF Soldiers In Pulwama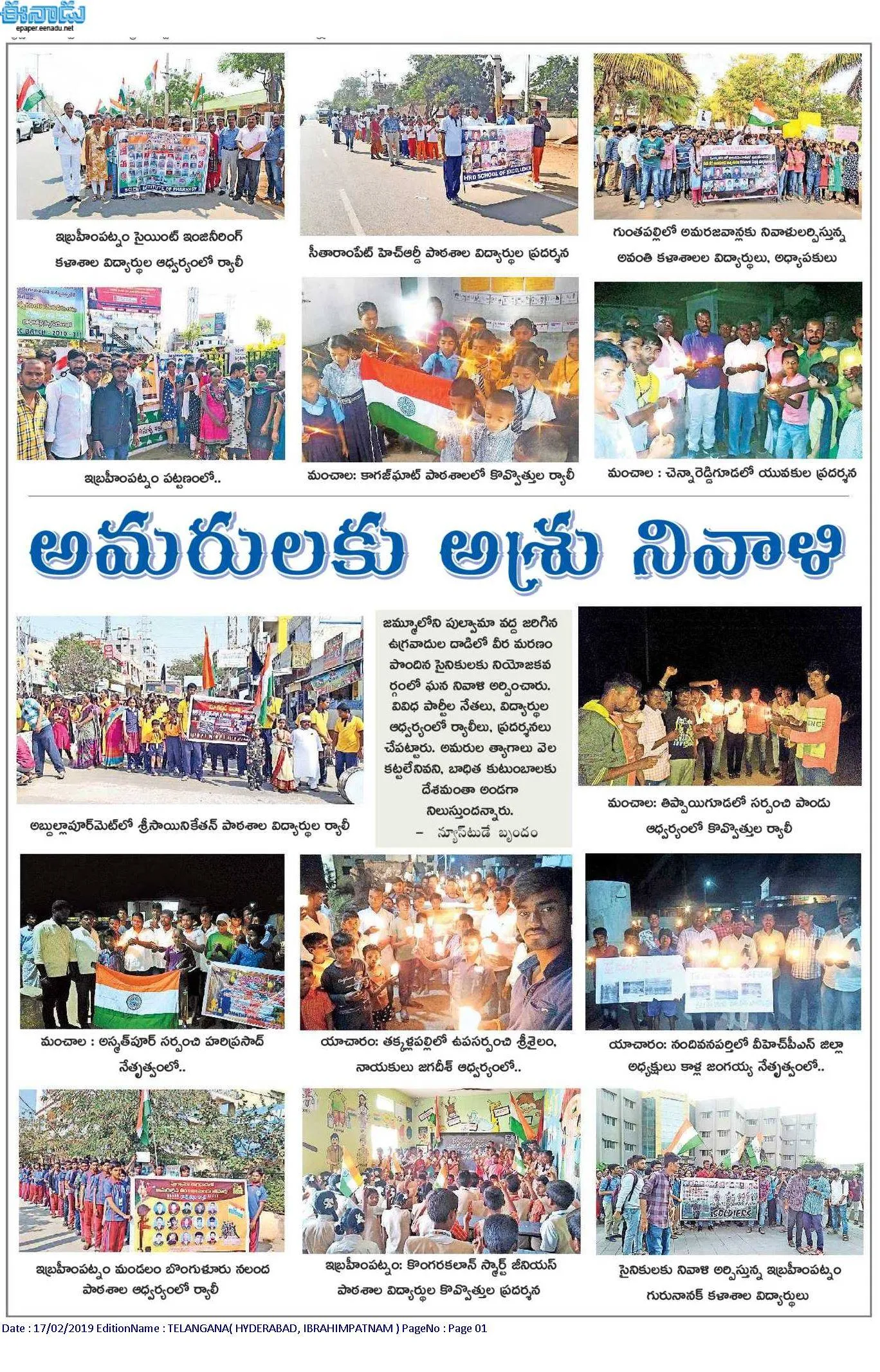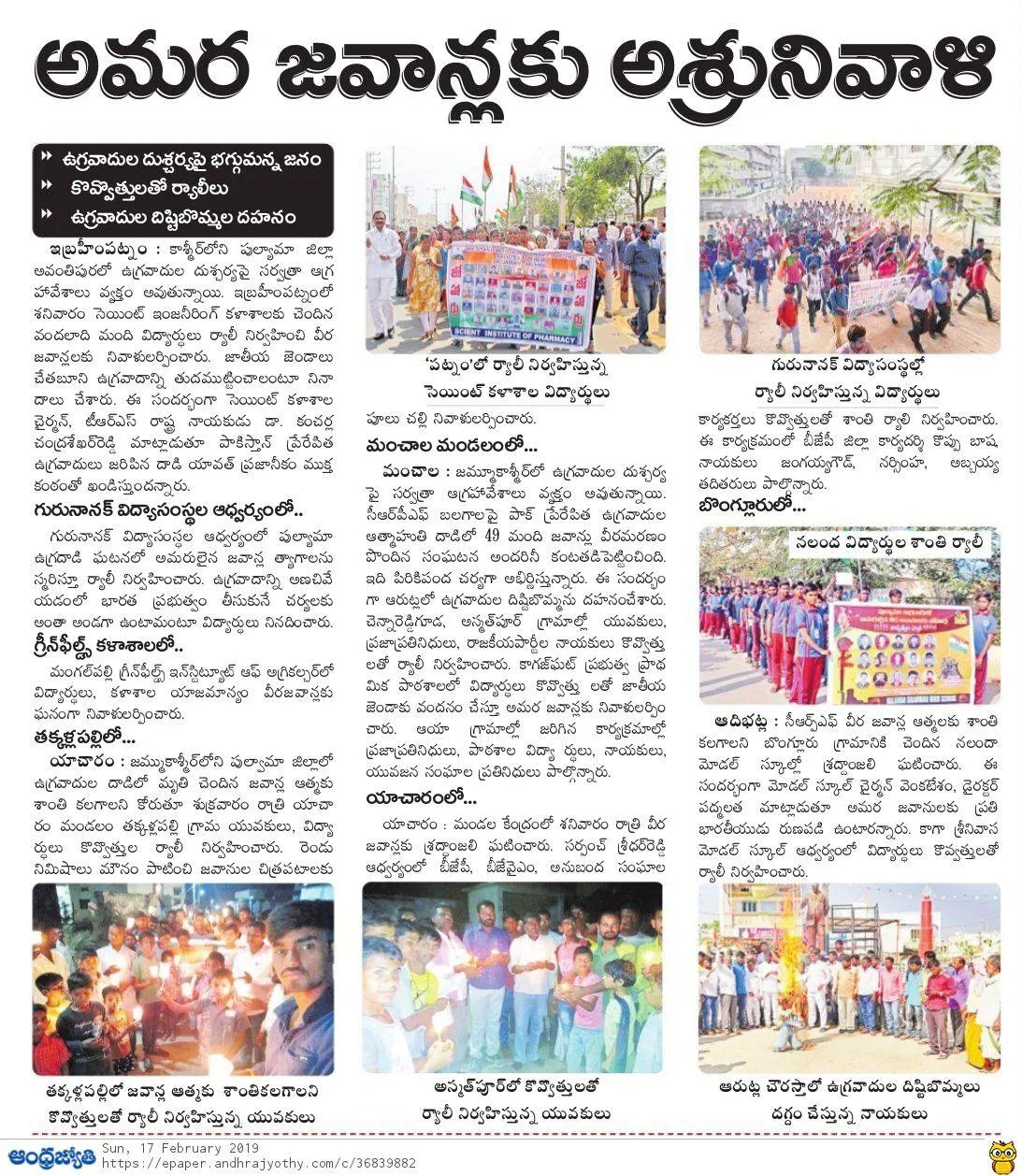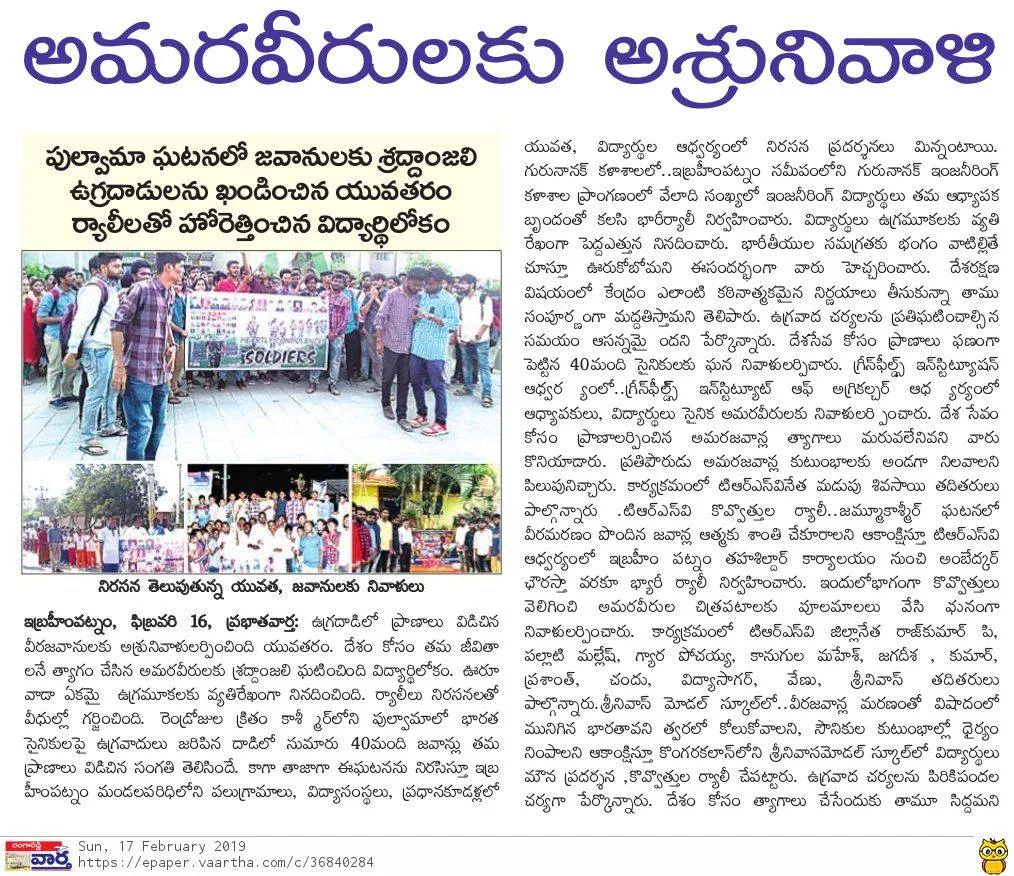 ICIME – 2019
గురు నానక్ విద్ాాసంసథలలో మెకానికల్ ఇంజనీర ంగ్ లో నూతన ఆవిష్కరణలప ై ర ండవ అంతరాాతీయ సదససు (ఐ.సి.ఐ.ఎం.ఈ-2019) రంగారెడ్డి జిల్లా ఇబ్రహ ంపట్నం సమీపం ల్ోని గురు నానక్ విద్ాాసంసధల్ందు (జి.ఎన్.ఐ.ట్ి.సి. మరియు జి.ఎన్.ఐ.ట్ి) జనువరి 4 మరియు 5 వ తేద్ీల్ల్ో మెకానికల్ ఇంజనీరింగ్ ల్ో నూతన ఆవిష్కరణల్ప ై 2 వ అంతరాాతీయ సదసుును విద్ాాసంసథల్ పారంగణం ల్ోని ఇండ్ోర్ ఆడ్డట్ోరియం ల్ో నిరవహిసుునానరు. ఈ కారాకరమలనిన ఏ.ఐ.సి.ట్ి.ఈ, నూా ఢడల్లా మరియు ఇతర పరిశ్రమల్ ఆరిథకసహకారంతో గురు నానక్ విద్ాాసంసథల్ ఆధ్వరాంల్ో నిరవహిసుునానరు.
మెకానికల్ ఇంజనీరింగ్ మరియు అనుబ్ంధ్ రంగాల్ల్ో నూతల్ ఆల్ోచనల్ను, పరిశోధ్నల్ను, ఆవిష్కరణల్ను చరిచంచడ్ానికి పరిశోధ్కుల్ు, శాసురవేతుల్ు, ట్ెకానకారట్సు, విద్ాావేతుల్ు మరియు ఇంజినీరుా వంట్ి వారికి ఒక వేద్ిక గా ఈ సదసుు ఉపయోగపడ్ాల్నేద్ి ముఖ్ా ఉద్ేేశ్ం.
ఈ సదసుుల్ో అతాంత పారముఖ్ామెైన అంశ్ం గురు నానక్ విద్ాాసంసథల్తో వజర సాఫ్ట్ ఇంక్, సిలికాన్ వాల్ల, యూ.ఎస్.ఏ (అమెరికా) మరియు ఇనననవాకిుల్ ఇండ్డయల వారు కుదురుచకునన ఒప్పందమని (ఎం.ఓ.యూ.) చెపపవచుచ. గురునానక్ విదా సంసథల్ తరపున మేనేజింగ్ డ్ెైరెక్ర్ డ్ాక్ర్ హెచ్.ఎస్. స ైని మరియు వజర సాఫ్ట్ ఇంక్ తరపున సి.ఈ.ఓ. బి.ఎల్.వీ. రావు ఒపపంద పతారల్ప ై సంతకాల్ు చేసారు. ఈ ఒపపందం పరకారం రాబ్ోయే 5 సంవతురాల్ల్ో ష్ుమలరు 5 ట్ిరలియన్ డ్ాల్ర్ు మలరెకట్స విల్ువ చేసే 23 డ్డసరపి్వ్ మరియు ఫ్యాచరిసి్క్ ట్ెకానల్జీల్ప ై పని చేయలల్ని నిరణయంచుకునానరు. మొదట్గా గురు నానక్ విద్ాా సంసథల్ల్ోని ఐ.ట్ి. పార్క నందు ఐ.ట్ి. పారజెకు్ల్ను, సాంకేతికతను సాథపించాల్ని నిరణయంచారు. ఈ ఒపపందం పరపంచ వాాపుంగా నూతన పరిశోధ్నల్ు చేసుునన విద్ాారుథల్ు, అధ్ాాపకుల్ు, పరిశోధ్కుల్కు ఎంతో ఉపయోగపడుతుంద్ి.
ఈ సదసుుకు ముఖ్ా అతిధ్ిగా యూనివరిుట్ీ అఫ్ హెైదరాబ్ాద్ పరరఫ సర్ డ్ాక్ర్ ద్ిబ్ాకర్ ద్ాస్, గౌరవ అతిధ్ుల్ుగా బి.ఎల్.వీ. రావు, సి.ఈ.ఓ వజర సాఫ్ట్ ఇంక్, సిలికాన్ వాల్ల, అమెరికా, అమెరికా విద్ాావేతు ఈ. ష ల్ిన్ డ్ీ.వాల్ బ్రరన్, ఐరాాండ్ విద్ాావేతు డ్ేవిడ్ ఫాల్న్ పాల్గొనానరు.
ముఖ్ా అతిధ్ి మలట్ాాడుతూ శాసురవేతుల్ు, విద్ాారుథల్ు మెకానికల్, ఆట్ోమొబ్ ైల్ రంగాల్ల్ో తవరితగతిన నూతన అనేవష్ణల్ు చేసూు సమలజ అభివృద్ిధకి తోడపడ్ాల్ని పిల్ుపునిచాచరు. మెకానికల్ ఇంజనీరింగ్ ల్ోని తీర డ్ీ.పిరంట్ింగ్, ఆరి్ఫిష్ల్ ఇంట్లిజెన్ు, రోబ్ోట్ిక్ు, మలానుఫాాకచరింగ్, నానన మెట్ీరియల్ు, అడ్ావన్డ్ కంపోసిట్స మెట్ీరియల్ు, ఆల్్రేనట్స ఫ్యాయల్ు, హెైబిరడ్ వెహికల్ు వంట్ి అనేక అంశాల్ల్ో ఆధ్ునిక పరిశోధ్నల్ు ముందుకు సాగాల్ని ఉద్ోోధ్ించారు.
ఈ సమలవేశానికి 400 మంద్ి విద్ాారుథల్ు, పరిశోధ్కుల్ు, అమెరికా, ఇంగాాండ్, ఇథియోపియల, శ్రరల్ంక ద్ేశాల్ నుండ్డ అల్లగే ఉతురాఖ్ండ్, కేరళ, మహారాష్్ర, తమిళనాడు, పంజాబ్ు, ఢడల్లా, కరాణట్క, తెల్ంగాణ మరియు ఆంధ్ర పరద్ేశ్ రాష్టా్రల్నుండ్డ హాజరెై మెచాకనికాల్ ఇంజనీరింగ్ ల్ో అనేక నూతన అంశాల్ను, పరిశోధ్న పతారల్ను చరిచంచారు. సదసుు చరాచభాగాల్ను అల్ంకరించిన వారిల్ో జె.ఎన్.ట్ి.యూ.హెచ్, ఎన్.ఐ.ట్ి. వరంగల్, బిట్సు హెైదరాబ్ాద్, యూనివరిుట్ీ అఫ్ హెైదరాబ్ాద్ నుండ్డ పరముఖ్ పరరఫ సరుా, శాసురవేతుల్ు ఉనానరు. ఈ సదసుుల్ో కీననట్స సపపకర్ గా దక్షడణ కొరియల ద్ేశ్ం నుండ్డ విచేచసిన డ్ాక్ర్ ఎన్.ఎస్. రెడ్డి తన అమూల్ామెైన సంద్ేశానిన అంద్ించారు.
ఈ కారాకరమంల్ోనే సి్రంగర్ వారి సహకారంతో ముద్ిరంచబ్డ్డన కాంఫ్రెనుు పరరసపడ్డంగ్ు మరియు 'జరనల్ అఫ్ ఇనననవేష్న్ ఇన్ మెకానికల్ ఇంజనీరింగ్' 2019 వ సంవతురపు సంపుట్ిల్ను ముఖ్ా అతిధ్ి మరియు గౌరవ అతిధ్ుల్ సమక్షంల్ో ఆవిష్కరించారు. ఈ కారాకరమంల్ో గురు నానక్ విద్ాా సంసథల్ వెైస్-చెైరమన్ సరాేర్ జి.ఎస్.కోహ ా, మేనేజింగ్ డ్ెైరెక్ర్ డ్ాక్ర్ హెచ్.ఎస్. స ైని, జి.ఎన్.ఐ.ట్ి.సి. డ్ెైరెక్ర్ డ్ాక్ర్ ఎం.రామలింగారెడ్డి, జి.ఎన్.ఐ.ట్ి పిరనిుపాల్ డ్ాక్ర్ ఎస్. శ్రరనాధ్రెడ్డి, మెకానికల్ ఇంజనీరింగ్ హెచ్ ఓ డ్ీ ల్ు డ్ాక్ర్ బి. విజయ కుమలర్, డ్ాక్ర్ జి. శ్ంకరనారాయణన్, విద్ాారుథల్ు, అధ్ాాపకుల్ు పాల్గొనానరు.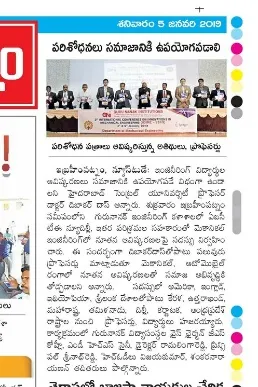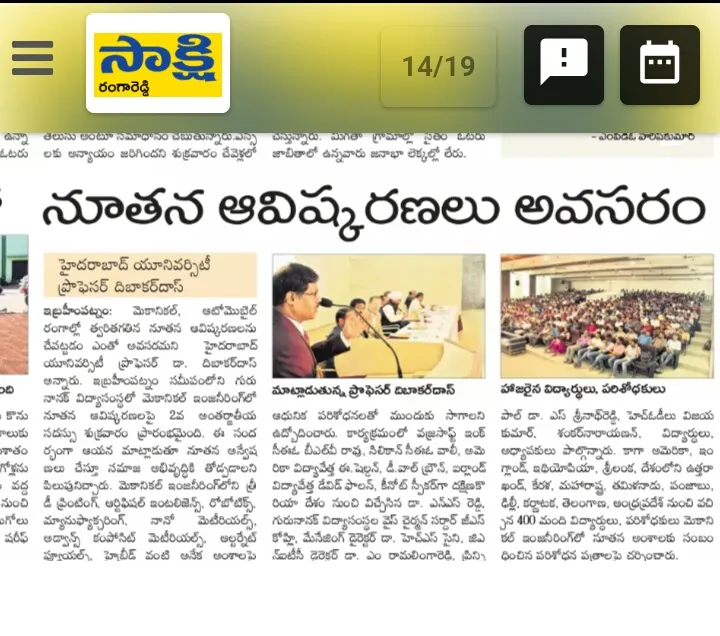 Bathukamma Celebrations 2018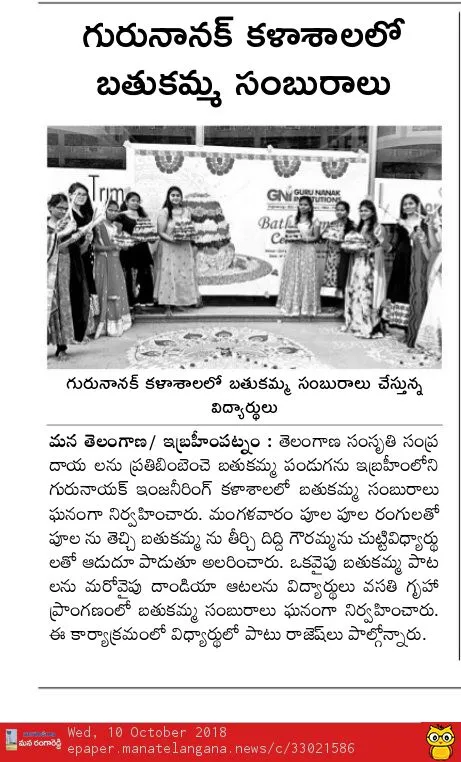 Talent Galore at this Audition
Graduation Day & Placement Programme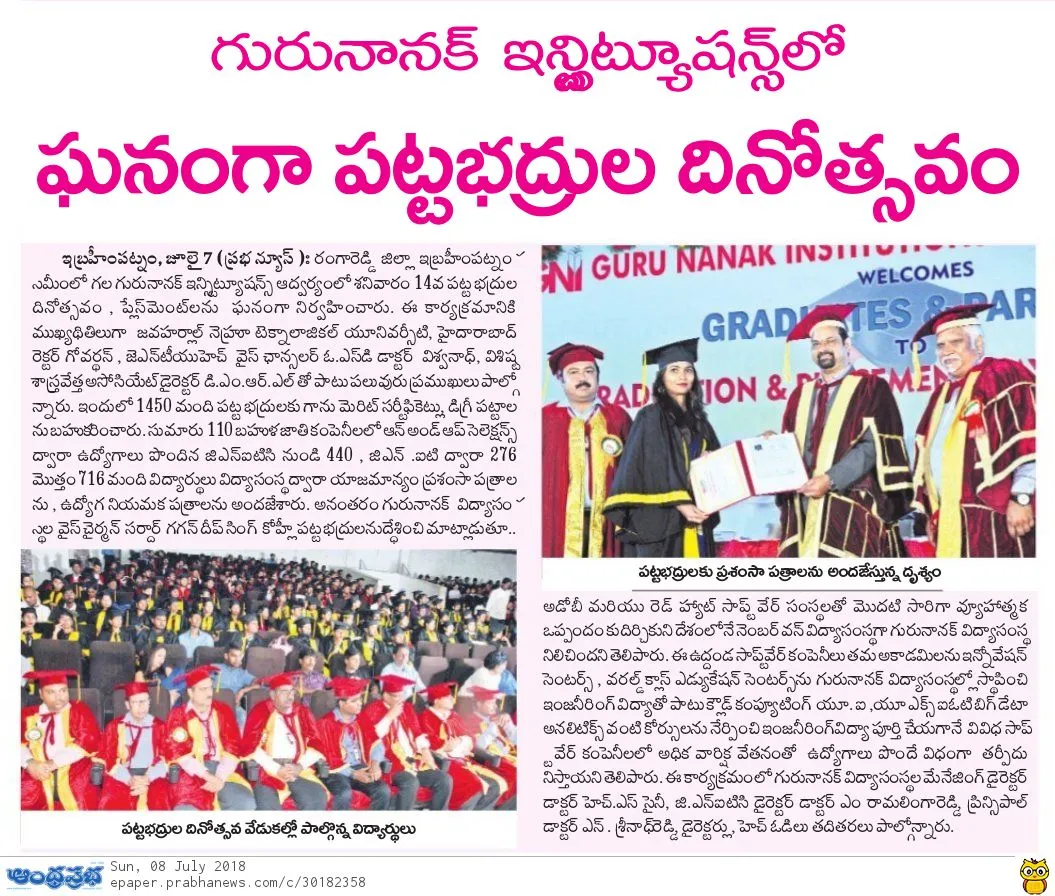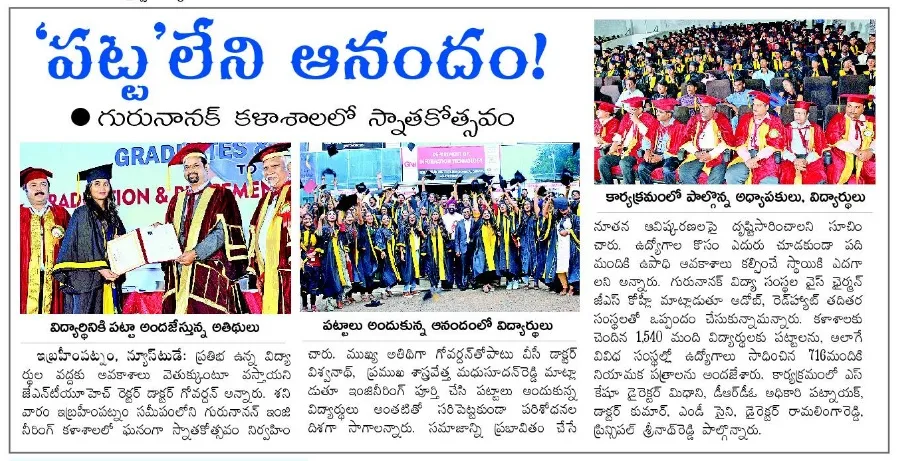 GNI joins hands with Red Hat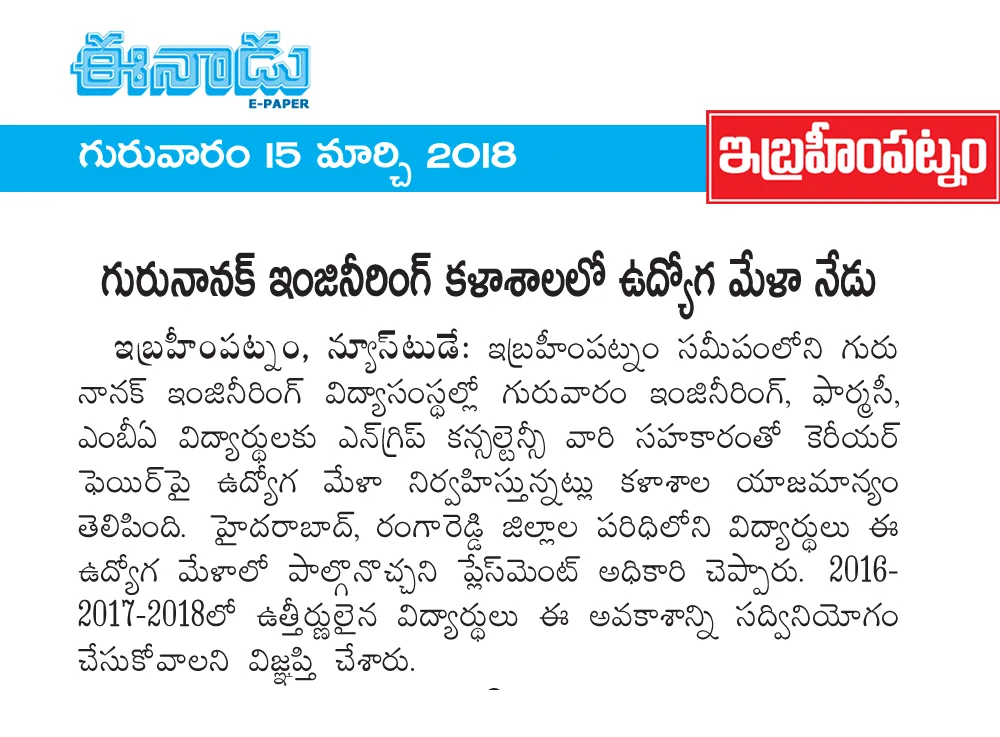 Guru Nanak Institutions in Collaboration with Engrip Organizing career fair 2018 on 15/3/2018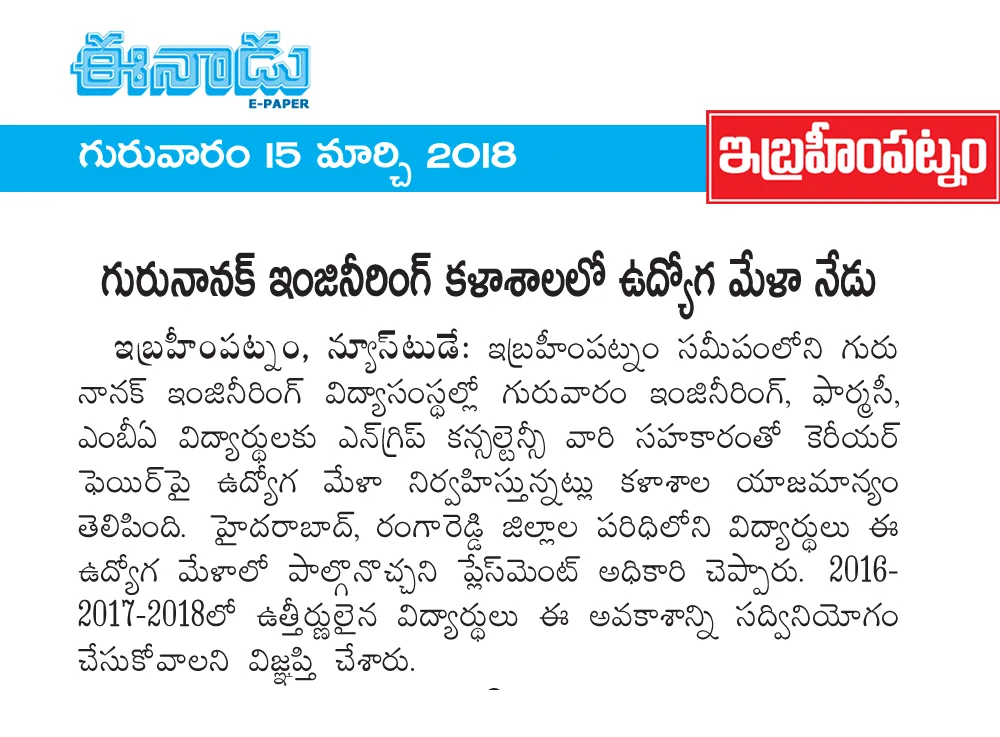 Business in Their Blood
Business in their Blood working together has only strengthened this Father-Son duo's relationship
For the last two decades, Talvinder Singh Kohli and his son Gagandeep Singh Kohli have been nurturing students in the fields of engineering, pharmacy, management and dentistry. After starting out in the automobile industry in the 1970s and then moving to real estate and construction in 1986, Talvinder Singh Kohli ventured into education in the year 2001 by establishing the Guru Nanak institutions — growing from just 300 students in the first year to nearly 10,000 today. The founder and Chairman of the Guru Nanak group of institutions says, "Being from North India and Punjabi —entrepreneurship is in the blood." A philanthropist, entrepreneur and social worker, Talvinder Singh, who along with his son Gagandeep Singh Kohli runs the institute, says, "It's been great to work with and be a part of the information and knowledge imparting industry, especially the education sector." Over the years, many changes have occurred —competition has become intense and the size of some markets have shrunk. "Due to the arrival of many competitors, the existing players were compelled to venture into new markets, but for the consumer, it's a winwin situation. They have got more options to choose from at lesser prices and can also get a chance to experience new products which helps the economy of that particular market by way of providing jobs," says Gagandeep, who did his Bachelor's in Computers and an MBA from Queen Mary University, UK.
Family Dynamics
Talvinder Singh sees a clear benefit of having his son on board — elevated loyalty. "There are certain liberties taken because he's my son. There may be confrontations, but always healthy ones because he considers it as his business too." The Kohlis credit their business success with knowing and respecting each other's strengths. "My dad is a visionary. It's always beneficial to have our own people at strategic positions and my father is there to guide, help and motivate me, there is no match for him. Over the years, our business has also shaped our bonding wherein it's getting stronger as the years go by.
GNITC is now a NAAC A+ Accredited Institute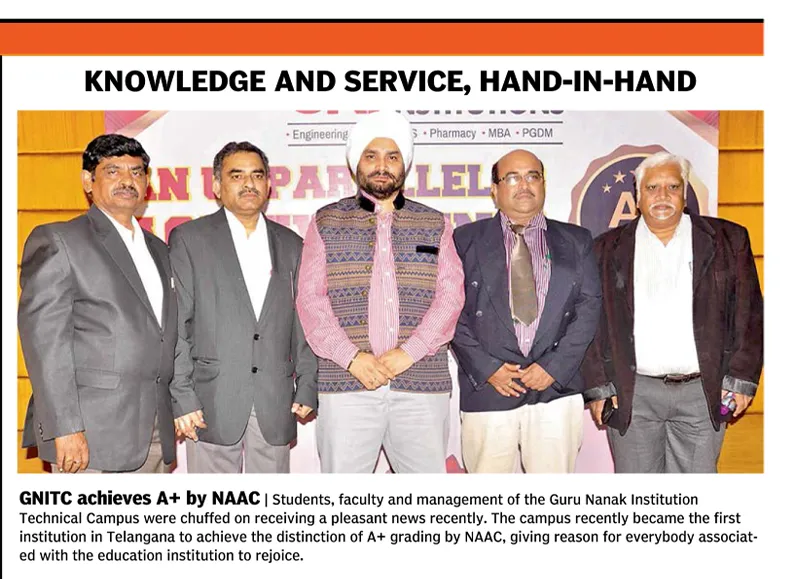 News Paper Coverage in regards to Job Fair - 2017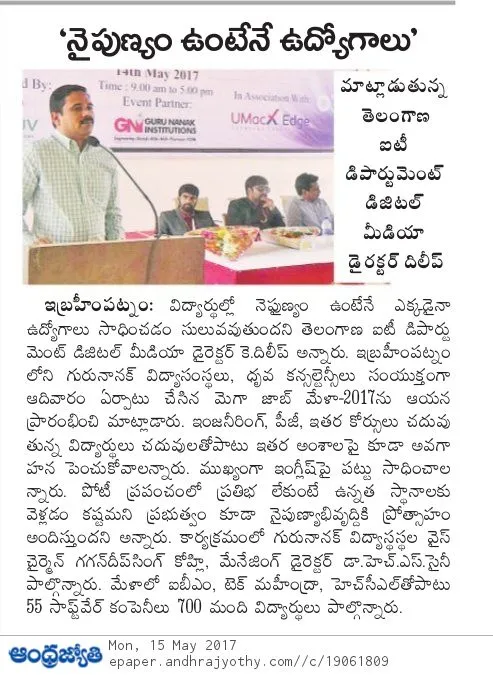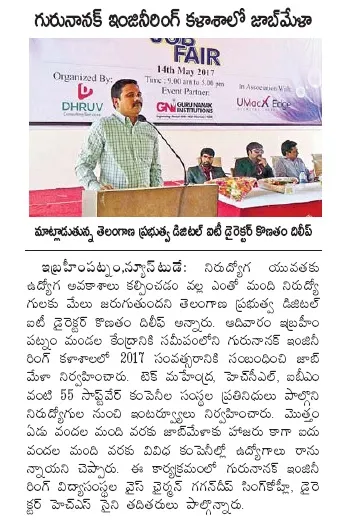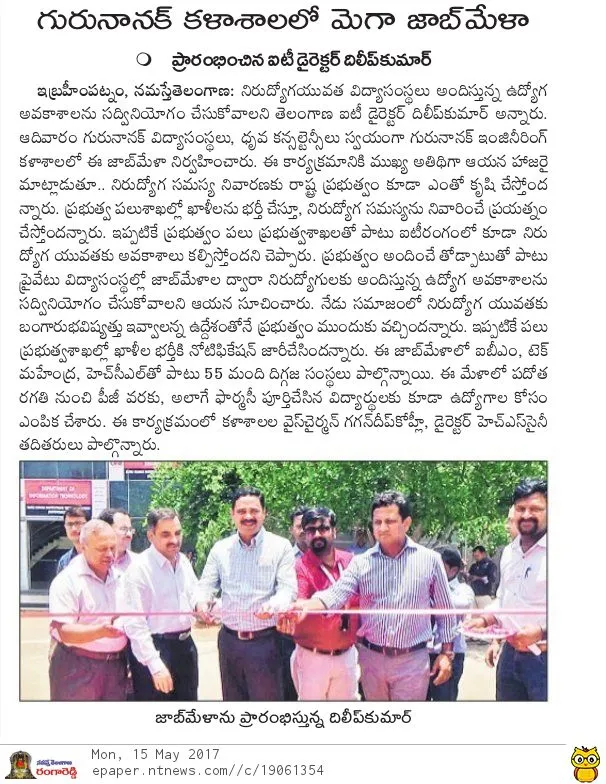 Cyber Crime Awareness Program @ GNI
Cyber Crime Awareness Program was conducted on 24-03-2017 for the GNI students at Guru Nanak Institution, Ibrahimpatnam. Shri Mahesh Bagawat, IPS Commissioner, Rachakonda, Shri K.R. Nagaraju Dy. Commissioner, Rachakonda, Shri S. Harinath, ACP Cyber Crime, Shri Malla Reddy ACP, Shri Narender, CI Cyber Crime, Shri Swamy, CI Ibrahimpatnam had participated in the program.
GNI Vice-Chairman Sardar Gagandeep Singh Kohli and Managing Director, Dr. H.S. Saini, Guru Nanak Institutions hosted the event successfully.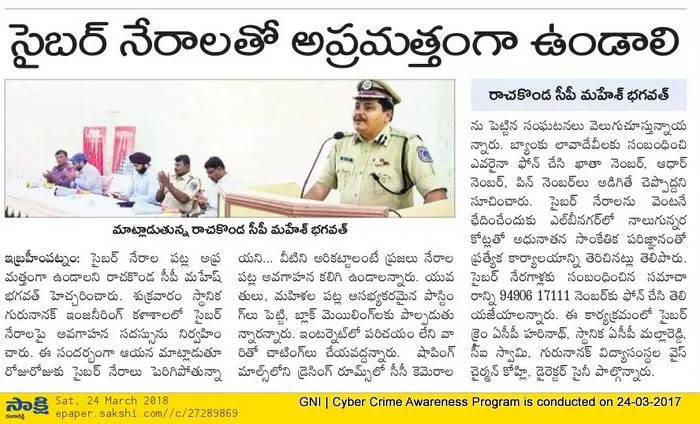 ---
Guinness Record attempt at GNI
GNI in Eenadu
Women's Day Celebrations
Home Away From Home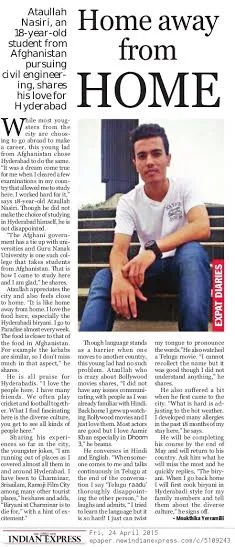 Social Responsibility
GNI Students Taking Social Responsibility
A few engineering students from GNI took social responsibility by helping poor kids from Matrusri Orphanage located at Vanasthalipuram. The engineering students have established a medical centre at the orphanage for the health of the kids apart from buying essential items for them. The engineering students who took up the responsibility were T. Srinivas, K. Srilatha, Parthasarathi and B. Vivek.
Andhra Bank new building opening
GNI Students Taking Social Responsibility
Modern services to account holders - S.K. Karla-Andhra Bank Executive Director
Andhra Bank Executive Director S.K. Kalra said that Andhra Bank is trying to provide standard and modern services to its account holders.
- Providing housing loans, car loans, loans on gold jewellery, ATM facility apart from other loan facilities.
- Providing personal loans and farm loans without much delay
- Andhra bank spreads its branches to 2700 for the last 92 years.
- Andhra Bank started its new branch at GNI to meet the needs of students by providing education loans, ATM facility etc.
Speaking on the occasion, Vice-Chairman of Guru Nanak Institutions, G.S. Kohli said that, Guru Nanak Engg. College was started with 250 students and now it is imparting education to 10000 students. He further added that, keeping in view of students needs Andhra Bank new branch was started at GNI campus. Shri Tavinder Singh Kohli, Chairman-Guru Nanak Engineering College, Narayan Goud, ACP-Ibrahimpatnam, AO - Chary, Andhra Bank Zonal manager- Sankaraiah, Jagadishwar, CI-Ibrahimpatnam, Branch Manager-Rameshbabu and Ananth Kumar participated in this programme.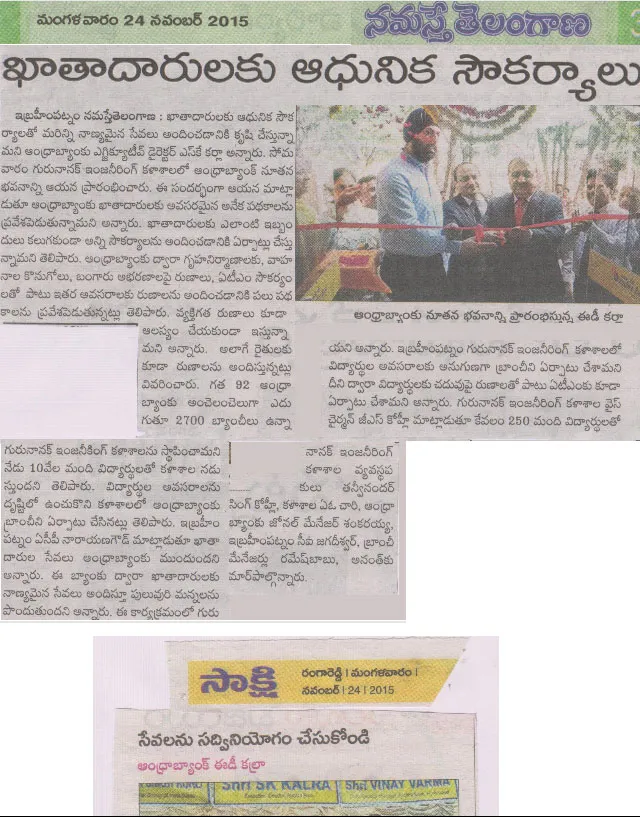 A Mobile APP to check Attendance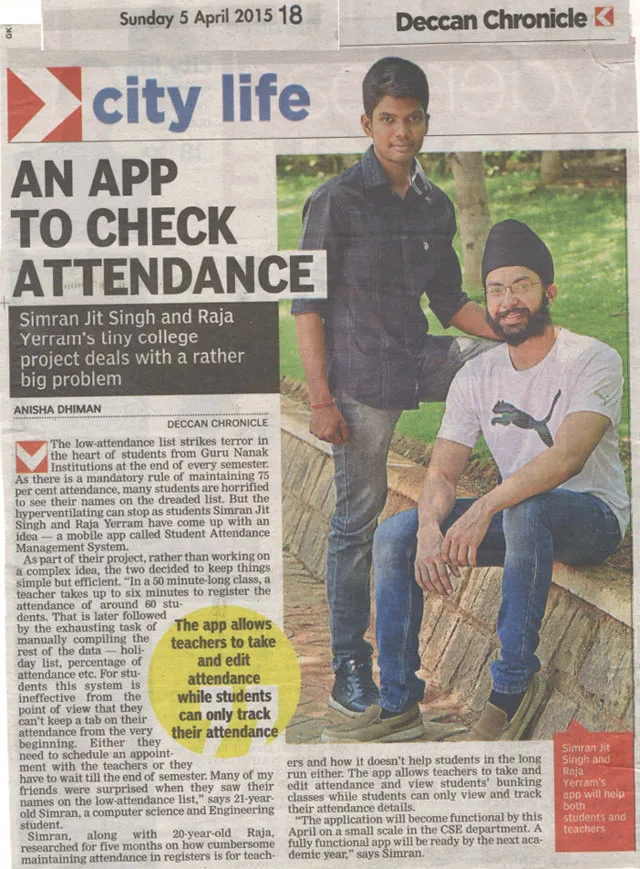 A Scintillating Livewire Gig
The International Youth Fellowship
The International Youth Fellowship ( IYF) World Camps was being hosted at Guru Nanak Institutions, Ibrahimpatnam on 05th September 2015 .Over 600 students from the City attended the opening day of the event @ GNI . As a part of the celebrations , students witnessed cultural performances by 40 volunteers who had come all the way from United States , South Korea & Vietnam.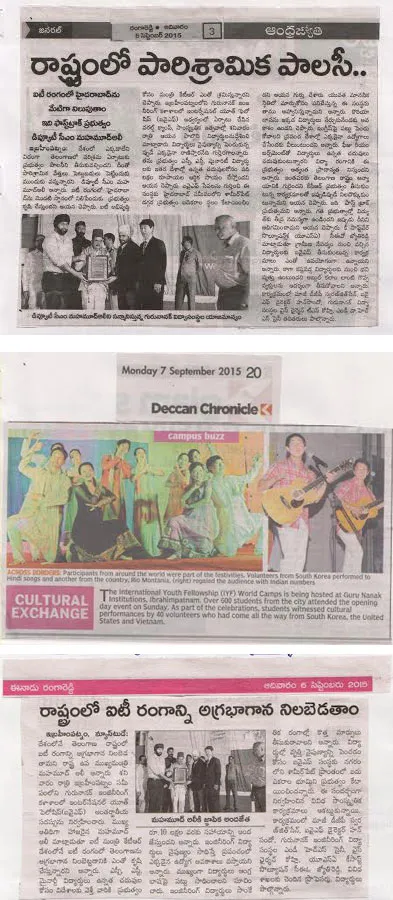 Haritha Haram program
Plantation at GNI Campus in 'Haritha Haram' program, under NSS
In Guru Nanak Institute of Technology on Saturday 27th June, 2015 The Vice Chairman G.S. Kohli planted a plant in 'Haritha Haram' program, under NSS. At that time he spoke that every person has responsibility to protect our environment, everyone must plant a plant for future endeavor. The plants are christened by the members of Guru Nanak Institutions in this program the Principal Dr. S.Sreenatha Reddy, Vice-Principal Dr.M.Narendra Kumar, NSS program Officer G.Saritha Reddy and all HOD's participated and made the event a great success.